Designing in SketchUp – a Planing Sled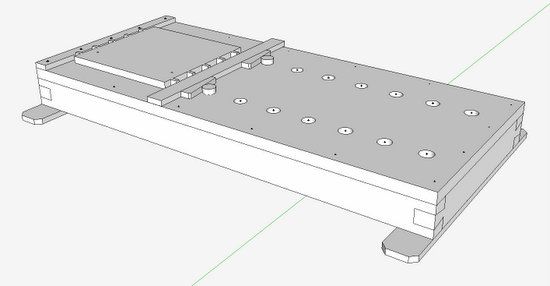 Next semester I will be teaching a hand tools class at an adult education school with a complete woodworking shop. However, the workbenches (salvaged from a middle school) are in terribly bad shape. They are sturdy enough, but the tops are not at all flat. It would be nice to machine plane these, unfortunately, the benches are full of hardware – that is, nails. Hand planing these surfaces would be an immense job and again risky with the embedded hardware.
I have been working on a fix that requires a number of portable Planing Sleds that would offer a flat surface for hand planing small lumber. I quickly get a picture in my head of the design, and quickly want to open SketchUp to capture this.
And so, this is a process I go through quite often in creating a new piece. I don't bother with pencil and paper sketches – that would only slow me down. I begin to layout the pieces as they appear in my mind. I'm not critical on sizing or shapes, as these parameters are easily adjusted in the SketchUp model. My immediate intention is to get a rough preliminary model, without joints or embellishment.
I'll stop after spending an hour or two. I need to rest and give my brain some space to think about the design. Usually, new issues and solutions will come to me at night. In the morning, I'm anxious to try out these ideas in the SketchUp model.
But before moving to the next iteration, I Save the existing version. This has been an important step in my design process – often, I will come back to an earlier stage of design, and re-incorporate various features. I've found that I end up with an average of six or seven model files with a numbered suffix of 1, 2, 3, 4, etc.
Now back to the Planing Sled. My first iteration looks like this.
A later version substantially beefed-up the design with heavier rails and a plywood platform.
I thought it might be easier for students making this platform to replace the dovetail connections with nailed – rabbet joints. I also incorporated Dogs in the platform.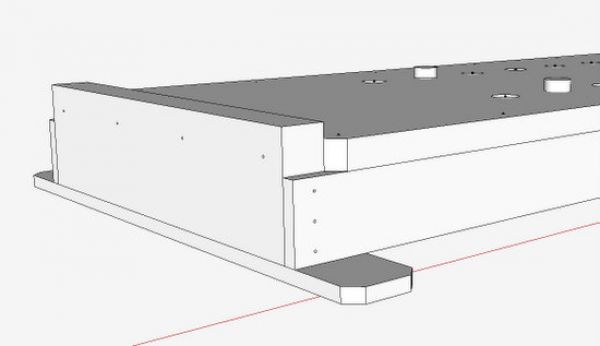 In a later version, I changed the corner joinery and the End fence arrangement. I think the dovetails will actually make it easier to position and connect the frame. Nailing into hardwood can be problematic – splitting, bent nails, and driving the rail out of position. It was nice to return back to an earlier saved version to capture the dovetail work. The Fence is now a removable and replaceable component, and the two End components are identical.
So here is where I ended up – version 4.
I tried building one using the nailed rabbet joints and had the difficulties expressed above.
I would be interested in feedback from readers on any experience with this workbench issue and ways to resolve.