Veritas - Veritas- PM-V11 Tool Steel
Veritas develops a tool steel for its line of plane blades and chisels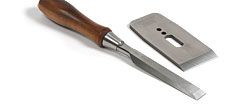 Veritas has developed a new tool steel for its line of plane blades and chisels. Called PM-V11, the steel is a powdered metal alloy that Veritas claims holds an edge significantly longer than both O1 and A2, the most common tool steels used today. That means you won't have to sharpen a PM-V11 chisel or plane blade as often. Plus you can sharpen the steel using your favorite method—no need for special abrasives.
To verify the manufacturer's claims, I put a 2-1/4-in.-wide bevel-up plane blade and a 1/2-in. Veritas chisel through my own real world woodworking tests.
The blade challenge
First, I compared the PM-V11 blade to a same-size A2 blade. A2 has risen in popularity in plane blades, due to its toughness.
I started the test by using my Japanese waterstones to hone each blade, working up through various grits to 13,000. In this arena, the PM-V11 blade required less work to get a highly polished edge, sharp enough to shave hair from my arm and slice paper effortlessly.
Then I put each blade to use. To test the keenness of the blades, I first planed the edge of a 2-in.-thick cherry plank. Both blades produced shavings of 0.001-in. or less—very good performance—but the PM-V11 blade cut with less resistance, indicating a keener edge.
Next, to compare the toughness of the blades, I made up a two-pronged test. First I planed the end grain of a white-oak panel that was 1-1/4 in. thick and 18-in. wide. With the A2 blade, I was able to produce continuous endgrain shavings for 50 passes before the edge began to show signs of dulling. With the PM-V11 blade I was able to get a beautiful endgrain shaving for 160 passes, making it a clear winner.
To ratchet up the heat, I resharpened and used each blade to plane the edge of a teak board that was 2 in. wide and 48 in. long. Teak is not a real hard and dense wood, but it is very abrasive and tends to wear down blades quickly. Here, I found the blades more evenly matched. With each one I was able to plane the edge 40 times. I was a little surprised at the similarity in performance, so I repeated the test and got similar results.
Turns out the PM-V11 steel sharpens easily and readily takes a keen edge, outperforming A2 in these areas. In terms of durability, PM-V11 also gets the nod, but it is a closer call.
The chisel challenge
Next, to gauge the quality of the PM-V11 steel in a chisel, I compared it to five other high-quality chisels (all 1/2-in.), including the new Veritas O1 chisel and a high-end Japanese chisel. I put all the chisels through a series of tests that simulated the rigors of chopping dovetails in cherry, white oak, and bubinga.
After each round I noted the quality of the blade's edge. Then I touched up the edge by lapping the back and stropping the bevel before moving on to the next board. Finally, I did a paring test in a pine board, noting the force required and the finish left on the board.
In the end, in terms of edge retention and performance, the PM-V11 chisel ranked second only to the high-end Japanese chisel, which is comparably priced.
Bottom line: The new steel is stellar
Overall, I am extremely impressed with the new PM-V11 steel from Veritas. Woodworkers will definitely benefit from its durability and edge retention. Expect to pay 20% to 30% more for it, though. Veritas is rolling out the PM-V11 steel first in its plane blades this fall, and then in chisels.