The Classic Shaker Style
Discover the difference between the masterful and the near-miss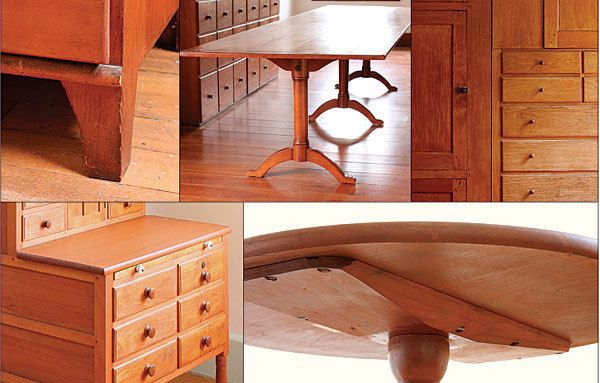 Synopsis: What makes a piece of furniture quintessentially Shaker? What defines the style that so many furniture makers see as the epitome of clean lines and excellent craftsmanship? If anybody knows the answers to these questions, Christian Becksvoort does. He's spent 30-plus years around Shaker furniture: building it, restoring it, studying it. This guide contains his insights into classic Shaker style, using examples from two New England Shaker villages to illustrate where things can go wrong, and how beautiful it is when they go right.
Many furniture makers are inspired to build Shaker pieces. I can see why. After all, Shaker design embodies all you'd want in a piece of furniture. The style is defined by clean lines and excellent craftsmanship, and more importantly, the pieces are highly functional. but it can be hard to distinguish a piece that's truly Shaker from one that's diluted by non-Shaker influences.
Like any other seminal furniture style or movement, Shaker style experienced different periods. Initially, the Shakers were influenced by the furniture they found in New england. Then, around 1820, Shaker design came into its own. For the next 40 years, the Shakers produced their finest furniture. The worldly influences found in earlier furniture were gone and their work took on that classic and unique look the Shakers are famous for. After 1860, Shaker communities began to decline and outside influences, particularly victorian, crept back into Shaker work.
Shaker pieces are abundant, and you can copy any that strike your fancy. but to build in the truly classic style, you need to know its forms and details. I've been around Shaker furniture since the 1970s, helping to restore and even build pieces for the Sabbathday Lake Shakers in maine. That experience has given me insight into what makes a piece quintessentially Shaker. To help you understand the essential elements, I've put together this guide, drawn from two New england Shaker villages: Sabbathday Lake and Hancock. I'll show five types of furniture, pointing out details that arose from outside and those born in the movement that make the pieces classic.
Simple and unrefined. Early stands like this one, built in 1820 at Sabbathday Lake Shaker Village in Maine, have the least ornate posts and legs. The post has a long swell-taper that ends in a small cove above a cylinder. The legs are really slightly tapered dowels fit into drilled mortises in the post. The rectangular and square-edge top is another indication of early design.
From Fine Woodworking #229
For the full article, download the PDF below:
View PDF