Antique Workbench Completion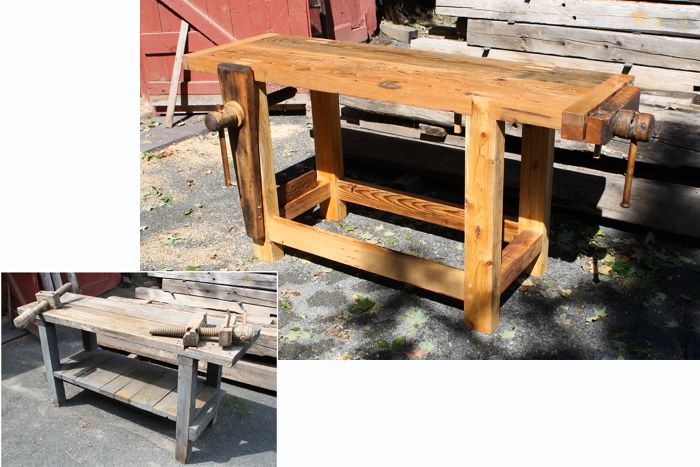 I've always admired antique workbenches showing all those years of use. This "reclaimed" bench of sorts doesn't show all the dings, dents and saw kerfs of the original top, but the vises still do. I have to say these wood screw vises are a joy to use. They look a little rough, but with a thin coat of wax on the threads, these guys operate as smooth as can be. I'll just have to get to work using the bench to age the new top!
I should have tackled the glue up in stages. First glueing the leg assemblies separately, then glueing the stretchers in place before tapping the top down on the leg tenons. It was actually more like beating the top down onto the leg tenons, but they eventually were all seated down nice and tight using a scrap block of wood and a small mallet.
Since the top is yellow pine and cyprus, flattening was pure fun. After attaching the vises, all I had to do was fit a few bench dogs to the top and the tail vise. The tail vise still had the original forged dog with it, but I like wood dogs better. Actually, if the end blocks weren't bolted in place, the only metal in the entire bench would be the six brass screws that lock the flange to the leg vise chop!
---
More on Workbenches
---
Hybrid Roubo Workbench


Monster Workbench


A Workbench Built for Power Tools
Build Your First Workbench
---
The before and after. One of the original top planks was re-used in the new top. The second original top plank was too rough, so it became the back stretcher, and strips that added thickness to the first plank. The original legs became the lower side rails and the end caps. The only added parts are the new legs to beef up the leg dimentions to 3in by 5in. and a second plank for the top.
All the parts read for glue-up.
I added 1/2in. thick yellow pine strips to the bottom of the original top plank that was re-used. This brought the final thickness to 3in. so it would match the new plank.
Flattening the top. Love the look of those leg tenons coming through the top.
And here's the bench with finish on it. Linseed oil thinned with turpentine.
The metal flange was missing from the leg vise screw, so I made one out of wood. The toughest wood I could find in the shop was a small piece of straight-grained black locust. I added a bit of wax to the slot before screwing the flange to the chop.
The final touch. Two maple bench dogs and the "new" antique bench is done!