New Felder/Hammer segmented cutterhead might be best on market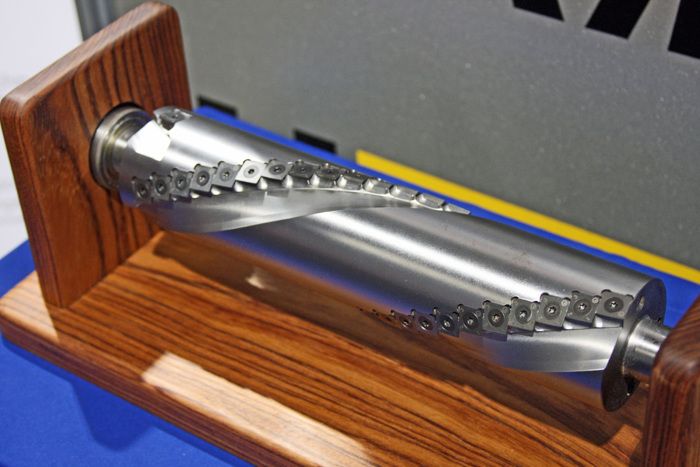 Sounding like a Schwarzenegger movie, the new Austrian-made cutterhead is dubbed "Silent Power." Felder's Ruan du Toit took me through the many advantages of the company's innovative new segmented cutterhead, which it now offers as an option in every one of its Felder and Hammer planers and jointers.
Aimed at the high-end, shear-cutting Byrd head, but designed to surpass it, the teeth on the Felder/Hammer version are uniquely angled and curved, to make smaller chips and 10db less noise (equates to a 50% drop), with less tearout in the wildest woods, while also drawing fewer amps. That last bonus is why Felder was able to roll it out through its entire line, regardless of motor size. Be aware that they don't retrofit these heads into existing machines; you can only get them in original equipment, where a 12-in. head, for example, will add about $750 to the sticker price, roughly equal to the cost of a Byrd head.
The other big advantage of the Silent Power head is the spacing of its teeth, which du Toit said are closer than those on any other cutterhead, overlapping slightly in fact, which eliminates the tiny tracks that other segmented heads sometimes leave on the surface. And the advantages don't stop there. The channel in front of the teeth is deeper than others, meaning those smaller chips will eject more readily for better dust collection. Further, de Toit said, smaller chips pack more tightly in your dust bag, meaning you won't have to empty it as often.
Of course, the new cutterhead has the biggest advantage of the segmented technology: four-sided carbide teeth, which last many times longer than steel knives, and are a snap to pivot when you do finally need a fresh edge.
I'm pretty sure the guys at Felder won't use it, but here's a sales pitch: "Silent Power. Terminate Your Tearout."
Felder/Hammer's new Silent Power segmented cutterhead is available as an option in every one of the company's planers and jointers.