Sharpening Jig for Planer Knives
Learn how to sharpen your planer knive in-place with this shop-made jig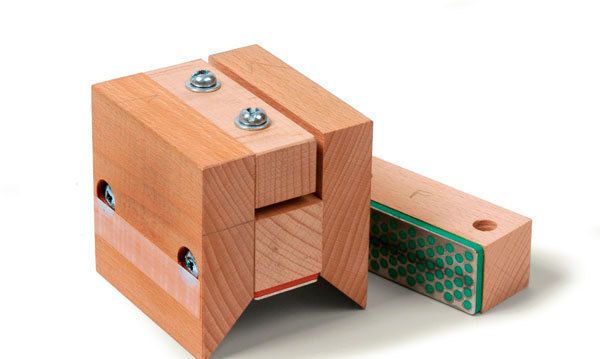 After I'd created a way to sharpen my jointer knives without having to remove them from the machine, I came up with a way to do the same thing with my planer knives. Unlike the jointer, you don't have a surface adjacent to the cutterhead off which you can register the sharpening stone. Instead, you need to have the jig and sharpening stone ride on the cutterhead itself. I have a floor-standing planer whose cutterhead can be exposed enough to give access to the jig. If you have a lunch-box, bench-top planer this may not be the case but check and see.
Planer Sharpening Jig
All the parts are made from a dense hardwood such as beech or maple.
Position jig over blade and cutterhead
With the machine unplugged place the jig on the cutterhead and against the chip deflector. Rotate the cutterhead to locate the bevel side of the knife forward of center under the stone. Mark the location of the knife on the planner body to align the other blades.
The right angle for sharpening the planer blades

Lock the cutterhead in place
Find a way to lock down the cutterhead, in this case the simplest method is by clamping the belts to the pulley. A wedge would also work to keep the cutterhead from moving while sharpening.
Adjust the height of the jig
With the jig rocking side to side on the knife tip, turn the two bolts at the top of the jig clockwise to pull the center block up until the jig barely teeters on the knife. You want to remove just a bit of metal from each knife, leveling them in the process. For major knicks start with the coarse (325-grit) stone, otherwise just use the fine (600-grit) stone.
Slide to sharpen
Create a small secondary bevel along the length of the knife. By angling the knife to the front of the stone you keep the bevel angle low as you slide the jig along the length of the cutterhead. If the knife height varies along its length due to uneven wear, the higher part of the knife will be automatically ground more. If part of the knife doesn't get ground (no shiny secondary bevel), lower the center block slightly and sharpen the whole knife again. Don't change the jig for the other knives.
Sources of Supply for the "minisharp" diamond stones:
woodcraft.com
dmtsharp.com