Stupefying Engineering in an 18th Century Table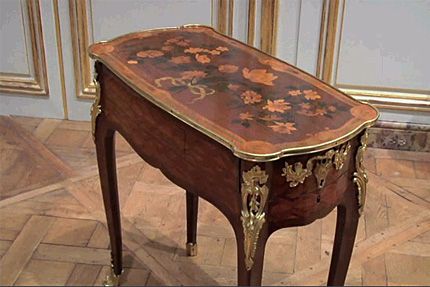 Nowadays, any enterprising woodworker with a bit of engineering know-how can easily purchase any number of manufactured gears, cams, and ratcheting mechanisms for use in extraordinary pieces of furniture. But back in the 18th century, when this exquisite table was built by a French craftsman, there certainly weren't any Woodcraft, Rockler, or McMaster retail stores from which to purchase these sorts of mechanical items, and that's what makes this little table such a marvel of engineering.
Jean-Francois Aubin had privacy in mind when he built this small table for a female French aristocrat. It's chock-full of incredible mechanics that'll make your head spin.
With the turn of a key, the top and writing surface extend in opposing directions, revealing a silk-covered writing surface as well as two hidden wells for the storage of writing paper and other supplies. A small drawer centered beneath the writing surface has no pull with which to open it. Instead, the user depresses a small lever hidden beneath. For even more storage, Aubin incorporated a full length side drawer with a mortised lock set.
Marquetry Worn by Time
Interestingly, the colors of the marquetry on this particular table are rather muted–a result of the ravages of time. In much the same way that we're not accustomed to seeing the original colors adorning the old ruins of Rome, the artist's rendering of what this table's beautifully-adorned top would have looked like some 250 yeears ago is simply stunning.
Secrets Unfold
The J. Paul Getty Museum's animation of the inner secrets of this little table is stunning as well, and well worth watching. It's sure to inspire just about anyone who has ever built anything at all! 
The marquetry adorning the top of this 18th century table is beautiful, but after over 200 years, it's colors have faded significantly.
With the turn of a key, the top and writing surface extend in opposing directions.
A dizzying array of mechanics make this table an engineering marvel.
The drawer beneath the silk-covered writing surface features no pull. Instead, the user must depress a hidden lever beneath it.
Need more storage? A full length drawer opens out from the right side. Of course, it features a beautiful mortised lock set.