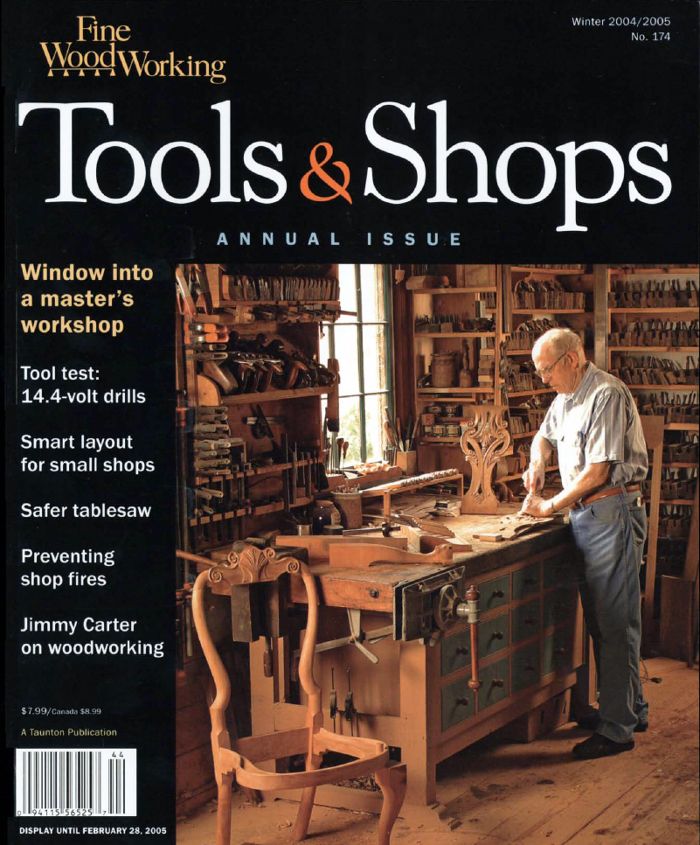 I regret to have to announce that my friend and long time author for Fine Woodworking magazine, Eugene E. Landon has passed away after a heart attack. My condolences go to his wife Jane, and son Ben.
Gene first appeared in Fine Woodworking when a Queen Anne chair he made was on the back cover or the March/April 1980 issue. From then on he was a regular contributor of articles on various aspects of making period furniture. Like many period furniture makers, Gene gained a lot of his knowledge from restoring antiques. By taking apart original pieces he could see how they were made, and examin minutely the tool marks left on the piece. His goal was to try and replicate an original as closely as possible and he claimed that a couple of his chairs had sold at auction listed as 18th century originals.
I was a little nervous before my first visit to see Gene at his shop in Montoursville, PA. A colleague who had previously worked with him described him as difficult. Gene was certainly not lacking in strong opinions on politics, furniture designs, and even his fellow period furniture makers, but apparently he had mellowed considerably after his first heart attack (before I knew him), and like his two German shepherds, Chippendale and Queen Anne, he was all bark and no bite. Gene was economical with his words when it came to manuscripts – an outline on a postcard was often the limit. Therefore, as well as taking photos, I asked a lot of questions and kept copious notes. After writing the article, I faxed it to Gene for him to look over. The fax was Gene's only concession to "modern" communication. It still used thermal paper, and when Gene learnt to his dismay that the company was discontinuing this paper he bought every box his could find. Luckily Gene liked the manuscript, commenting "You're observant aren't you!"
A few year's later, I got to see another aspect of Gene's life when he generously invited me as a guest to one of the classes he regularly taught at Olde Mill Cabinet Shoppe in York, PA. Most of the students had taken numerous classes and regarded Gene as something closer to a furniture guru rather than a mere teacher. One of his students, Rick Vannan, recently published a book about Gene entitled 18th Century Cabinetmaking: A forgotten art. You can purchase a copy by calling him at 330 705 2827.
A memorial service will be held on Saturday, June 11th, 2011 at 4pm at Messiah Lutheran Church in South Williamsport, PA. Details of where donations may be made in Gene's honor will be posted shortly at www.oldemill.com.