CNC is Knocking on Your Shop Door. Will You Answer?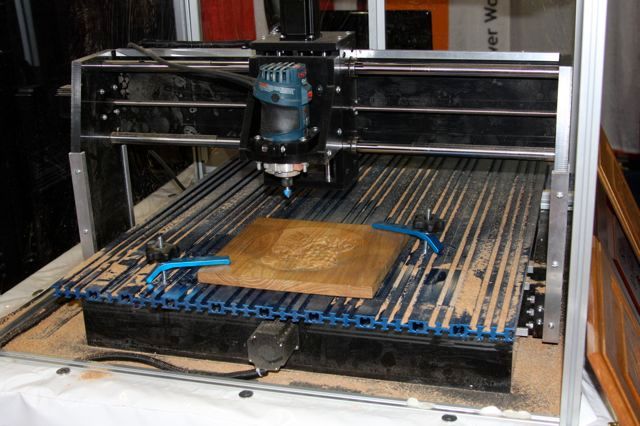 We've been keeping our eyes on CNC machines for some time, waiting to see when one would be introduced that is sized for a small shop. We've also been wondering what they would be used for in a small shop. After all, your average hobbyist or custom furniture professional doesn't need to mill a ton of parts. And you can only make so many wooden signs before your family and friends tell you that they don't care how witty you are, they don't need another board with a pithy chestnut carved into it. Well, the first question has been answered. We saw four small CNC machines at the 2010 IWF in Atlanta. I must admit that I've been skeptical of CNC, but I was impressed by all four. They are cool. And in the past few months I've seen some very creative work done with them.
Furniture makers are starting to use CNC units as artistic tools to create textured panels and intricately sculpted furniture parts. (Which just goes to show, once again, that it ain't the tool, it's the person using it.) Of course, you can also cut out parts and do just about any kind of sculpting. You can also equip these CNC machines with a tool that allows you put a completed part onto the bed and read every bump, every nook, and every cranny. After the machine is done, it can then crank out that part over and over again. That could come in handy if you needed to make 12 dining chairs. Because it's such a radically different tool than most of us are used to, it opens up a whole new world, one where we can make an original, pouring all of our skill and creativity into it and then turn it over to an employee that can reproduce it perfectly time and time again.
The Death of Fine Woodworking?
Of course, there's another side to the debate. Plenty of woodworkers out there find the notion of turning the craft over to a robotic tool soulless, classless, and utterly devoid of taste. What's the point of woodworking if you're leaving the "working" up to a computer-controlled router? Our very own Patrick McCombe sparked some interesting comments with his December 2009 blog, Are CNC Machines Ready for Fine Woodworking. Have a look at a few of the highlights:
CNC Machines are for factories . . . If you're ready to call your wood shop a factory and lose that, lets say 'Krenov hand-heart connection' to your finewoodworking, you might as well go to the store and buy it.
–HWYHAWK
Craftsmen are in danger. As CNC advances, there will be less need for anyone to develop their skills. A furniture maker that utilizes CNC is not a craftsman by any stretch; he is a designer/CNC operator. He designs it, programs it, the CNC cuts it and he assembles it.
–ROBIN9
Someday we will run out of all the lumber that we all love so much and will be forced to make our furniture out of a lesser variety and these inexperienced CNC operator that think they are Norm on speed are gonna make it happen so much sooner.Lumber is meant to be respected as the living thing that it once was. If you cant make something out of it that signifys that then stay away from it.
–SCHWA6970
Take a look at the four CNC machines on offer and then let us know, would you want one? Would you buy one? What would you do with it?
CNCShark Pro Plus from Rockler. $3800. The CNCShark has big capacity. It can rout over an area 25 in. square and 5 in. deep.
General International i-Carver $4800. Can rout over an area 15 in. by 20 in. by 4 in. deep.
Laguna Swift. $5600. Can rout an area 12 in. square by 5 1/2 in. deep.
ShopBot Desktop. $5000. Can rout an area 18 in. by 24 in. by 2 in. deep.
iCarver from Genreal International
Swift CNC from Laguna Tools.