IWF Alert: Porter-Cable jig makes pocket screws faster and easier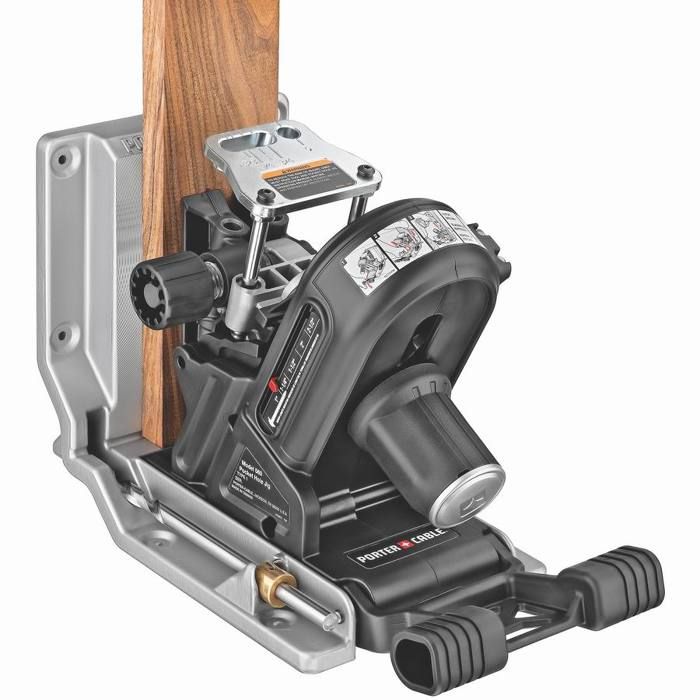 Even without this amazing new jig, pocket screws were already the fastest way to build cabinetry. But Porter-Cable's new QuikJig makes the job even faster and easier. You slap a piece of wood in it, and the jig adjusts automatically for its thickness as it clamps it solidly in place. Built in stops allow endlessly repeatable work. Because of the design of the jig, one drill and one drill-collar depth setting work for every workpiece.
Nice touches include a drill-collar setup gauge on the side of the jig, excellent dust collection, plus an indicator that reads the thickness of the piece and suggests the optimal screw length.
The whole jig flips forward to allow tall pieces to lay flat on the bench, if necessary, and the unit handles stock up to 1-1/2-in.-thick (the size of a 2×4, and as big as you'll likely need).
Bottom line, you can walk up to this jig with any workpiece in hand, and have the pocket screw holes done in seconds. Due to an extra-quick clamp at the back, subsequent workpieces change out even faster. And the holes were dead-on every time, at least in the demo I saw at the show. Pretty amazing for a suggested price of $230, which includes a bit, a stop collar, and a the Vise-Grip style clamp you'll need to hold workpieces togther while driving the screws.
Read about other great tool finds at IWF 2010
This jig looks complicated, but it is a snap to use, turning out accurate pocket-screw holes in seconds. Note the drill-collar setup gauge on the side, plus the gauge that uses the stock thickness to suggest an optimal screw length. Nothing is left to chance.
An adjustable stop sets the location of the workpiece.
It takes a second or two to pop a piece in the jig and press down the quick clamp. The drilling is the slowest part!