IWF Alert: DeWalt's little router is a show-stopper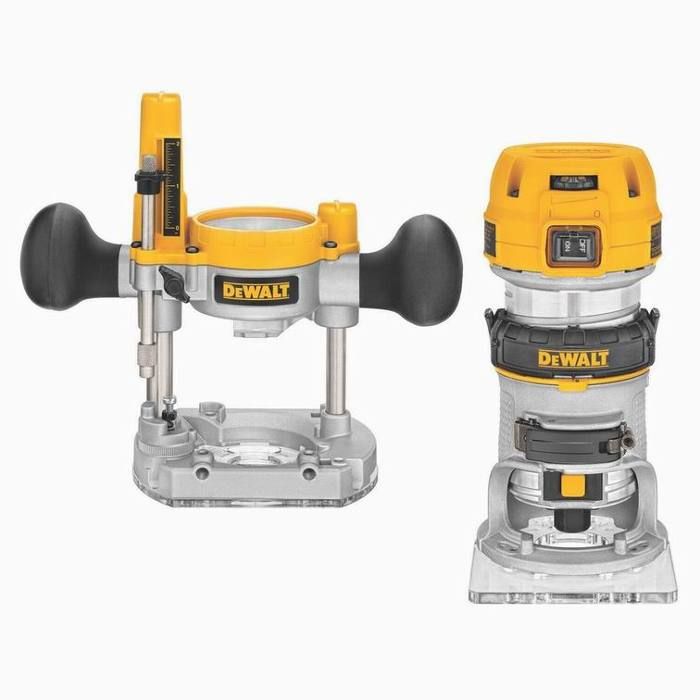 After trudging through concrete alleys all day, I finally found the gem I was looking for–a real game-changer. Lots of companies have trim routers, but none of them plunge. That's bad news for anyone who wants to do inlay, plus lots of other little stopped cuts. DeWalt's new 1-1/4-hp, single-handed Compact Router has plenty of punch for all the little jobs a trim router loves: chamfers, roundovers, hinge-mortising, and most edge profiles. But it adds a plunge base to the normal fixed base, creating a combo kit unlike anything else on the market.
Until now, if you wanted to do inlay, for example, you either had to buy a rotary tool and a special accessory base, or use a trim router that wouldn't plunge and had poor sight lines. DeWalt's compact router takes care of that with two bright LEDs in the bottom of the motor housing. By the way the motor is more powerful than those on other trim routers. That's why I think you will pick up this router for most of your handheld router tasks around the shop.
If you don't already have a trim router, buy this combo kit for $199. That's what I plan to do. OK, maybe I'll wait until we can get it into the FWW shop for a test run.
Read about other great tool finds at IWF 2010
The big news on DeWalt's new Compact Router combo kit is the plunge base and built-in LED lights. Also, the 1-1/4-hp motor is larger than those on other compact routers.
All we had on hand was a profile bit, but you can see how bright the cutting area is.
The fixed base is extended for better control when routing along edges, a nice feature. It seems like DeWalt thought of everything.