Mitered Edging Made Easy
Mitered Edging Made Easy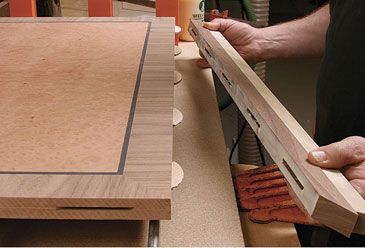 Synopsis: Applying a solid mitered edge to a veneered tabletop or other panel can be a tricky process. If the panel isn't perfectly square, it's difficult to get all four miters to close up tightly. In this article, Peter Schlebecker explains a step by step procedure that will yield a flawless fit every time. The secret is to perfect one joint at a time, working your way around the perimeter and cutting the miters as you go. He also gives tips on flushing the edge to the panel and profiling it once you are done.
When I teach veneering at the Center for Furniture Craftsmanship, students often need to apply a solid edge with miters to the beautifully veneered panel that they have just worked hard to make. Sometimes the panel is not perfectly square, so getting those miters to close up perfectly on all of the corners…
Start your 14-day FREE trial to continue reading this story.