How to Cut Clean Dovetail Shoulders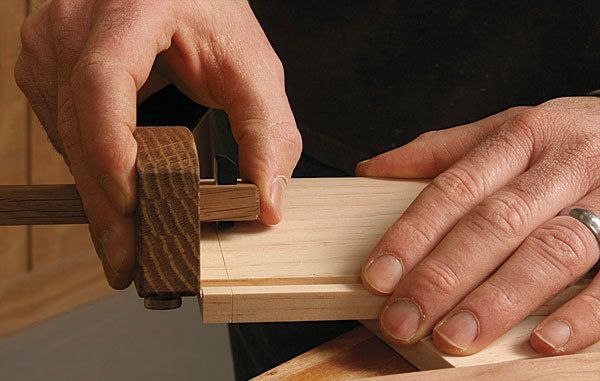 Q:
Matt Kenney mentioned using his marking gauge to scribe dovetail shoulders so that he could pare away a wedge to use as a reference for his chisel ("Make Your Own Marking Gauge," FWW #211). Could he explain his technique?
Seth Hanlon, Portland, OR
A:
A common problem when cutting dovetails is that the chisel goes past the baseline when chopping out the waste. With my method, the marking gauge doesn't just mark the shoulder's location, it starts cutting a clean and deep shoulder, which serves as a better guide for your chisel when paring away waste. I'll show you what I do on a tail board, but the same technique applies to the pin board.
Mark the shoulder of the joint by making two successively deeper passes with the marking gauge. Then make small paring cuts with a chisel to turn that deep line into a notch. Next, define the sides of the tails with a backsaw and remove the waste in the pin socket with a coping saw. Do not attempt to cut along the shoulder line. Rather, leave just a bit of waste to be pared away, about 1/32 in. to 1/16 in. Register the chisel in the notch you made earlier and pare down through half of the board. Then flip the board and finish removing the waste.
Photos and drawings, Kelly J. Dunton