Makita - Makita- LS1016L 10-in. Sliding Compound-Miter Saw
Makita 10-in slider: large capacity in a small footprint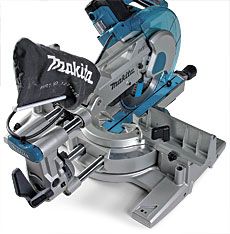 To get their crosscut capacity, most sliding compound-miter saws ride on a pair of long tubes. The Makita LS1016L has two pairs of shorter tubes. Makita claims this design improves rigidity. What is certain is that the design gives the tool a smaller back half, which could make a big difference in a cramped home shop.
I recently put one of these innovative saws to work and I found there's a lot to like about it. The saw features a 52° miter capacity left and 60° right. It can cut 2-3/4-in.-thick stock up to 12 in. wide at 90° and up to 1-7/8 in. thick at 45°. It can bevel 45° in both directions, thanks to a tilted motor and a two-part sliding fence.
The fit and finish on this machine is superb and the controls are intuitive and function well. The bevel lock at the back of the saw has a V-shaped handle that allows you to change the setting from either side. Truing the fence and setting the bevel stops was easy.
The saw also has a sturdy depth stop, but it doesn't maintain the depth all the way to the fence because of the circular blade. So you'll need an auxiliary fence or spacer for making full-width dadoes. The guard retracts smoothly and provides good visibility of the cut line.
I used the saw to cut a variety of materials and got high-quality, accurate cuts each time. If you want a top-notch miter saw, I recommend the Makita LS1016L. The price is $550. For more information, go to www.makita.com.
High visibility. Large, white-on-black markings make the bevel and miter scales easy to read.
Dual slides. Pairs of top and bottom slides give the 10-in. Makita LS1016L nearly the capacity of a 12-in. sliding model. The maker says the design also improves rigidity for more accurate cuts.