A Fern Stand: Demonstrating My Drawing Process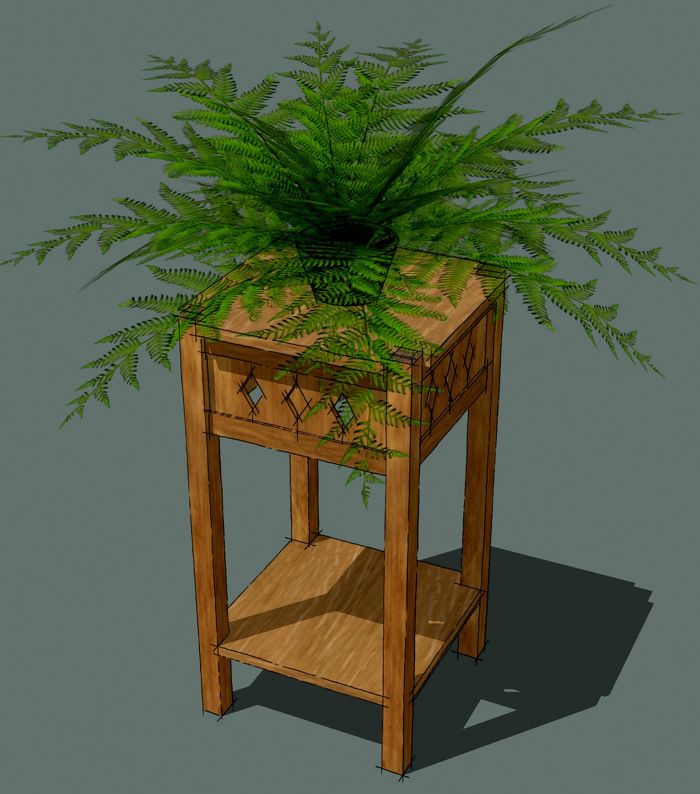 There are a lot of ways to draw things in SketchUp. Some folks like to draw the parts for a project in separate SketchUp files and then import each of them and assemble them as a model. Others prefer to draw all the parts in the same drawing window but laid out separately. then they move all the parts together.
Tim Killen and I both advocate a third method. We draw the parts in situ. For us this is a more efficient process because we don't have to move parts around the drawing quite so much. I refer to this as relational construction. One some key parts are placed, the rest of the parts are just drawn in to fit. Assuming that the key parts are drawn and placed accurately, the rest of the parts should be drawn accurately as well.
In the following video I'm drawing a fern stand from Mission Furniture: How To Make It originally published by Popular Mechanics Company. Although I'm working from a simple plan, the process I am following is the same one I would use for any piece of furniture. I start by drawing the key pieces that define the size and shape of the piece. In this case, the key parts are the legs. I then draw the rest of the parts to fit between or on them. Each part is made into a component before moving on to another part. I don't bother with the joinery until after the parts are made. Each part is made into a component before moving on to another part. You'll notice that I flip components frequently. Flipping creates mirrored copies of the originals. Even if it won't matter immediately, I flip symmetric components because this will make editing easier later on.
If I need to submit the design to a client for approval, it would be at this stage. There's little point in drawing in the joinery if the client can't see it. Also, if the piece needs to be modified, it is much easier to do if the joinery isn't there. Only after the design is finalized would I go back and draw in the joinery. Some of those details might not be needed but if as in the case of tenons, the joinery affects the overall dimensions of the parts, I would add them in so that the parts are properly dimensioned in the cut list.