Neglected Table Saw Gets Some Attention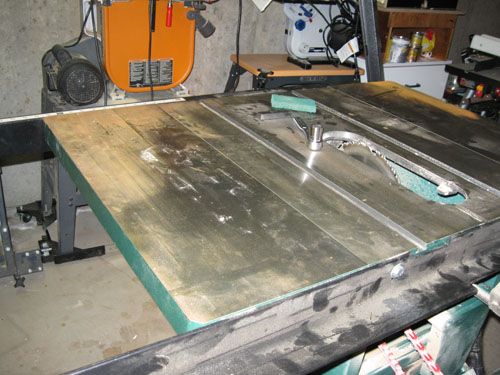 I confess. I have neglected my tablesaw. And it took a comment from my 9-year-old son to get me to notice. Sad.
You see, when I first moved into my house, I had planned to keep my shop in the garage, so I kept the tablesaw out there. Turns out the garage simply was too busy a place to make furniture, so I decided to set up shop in my basement.
While in the garage, the saw's top got rusty. I had always thought I'd tackle it once I got it inside, but then my wife and I had a baby and I was too busy to care about the saw, or anything else in the house that needed attention. Over time, I guess I got used to the brown look.
That changed a couple weeks ago when my son was reading one of my blog posts. He turns to me and says that the saw looked old. I craned my neck to get a closer look, and I was horrified. The boy was right. The saw looked as if I stored it in a swamp. The top was caked with rust. Resolved to make my wrong right, last week I went at it with a green Scotch-Brite pad and WD-40. Worked like a charm.
And since a tablesaw won't appreciate a flower apology, I went ahead and tweaked a few other things that were bugging me. I realigned the extension tables so they were actually flush with the top and tuned up the fence so it was sliding better. Two hours work, and the saw looks almost new, aside from the dust.
As an early New Years resolution, I promise not to take the saw for granted again. I hope she forgives me.