Pinned Miter Combines Strength and Beauty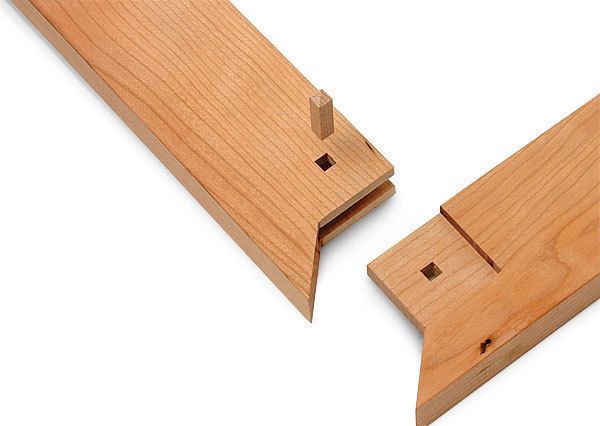 Synopsis: The kane tsugi (literally, right-angle corner) joint is a traditional Japanese joint that offers incredible strength and beauty. Russell Jensen, who has made many examples of the joint, explains how to make this combination miter/pinned bridle joint using a simple jig, some power tools, and a small amount of handwork.
From Fine Woodworking #200
On one of my many quests over the Internet for woodworking knowledge, I happened upon a fellow woodworker from Japan who had gone into great detail about traditional Japanese furniture joints. Of the 50 or so joints illustrated, one really caught my eye: The kane tsugi (literally, right-angle corner) joint is basically a miter and a pinned bridle joint fused together. After making many examples of the joint, I am still impressed at its incredible strength. Even without glue, the joint is almost impossible to move once you insert the pin.
Traditional Japanese joinery normally consists of a lot of painstaking handwork, but this joint can be created using a simple jig, some power tools, and a small amount of handwork—a nice combination.
A simple jig for cutting the tenon: While milling the wood for the joint, mill an extra piece to the same thickness. This piece should be about 2 in. wide and at least 14 in. long, with parallel sides. Then, cut two pieces of 3⁄4-in.-thick baltic-birch plywood about 6 in. wide and as long as the piece of scrap. The plywood should come from the same sheet for consistent thickness.
Now screw the two pieces of plywood to the scrap, leaving the scrap protruding about 1⁄16 in. on one side. After laying out the joint, insert a piece of your project wood into the jig and mark the width on the jig. Remove the workpiece, and rip the jig to this width with the protruding edge of the scrap running against the fence. Flip the jig and trim the scrap overhang. Finally, cut one end of the jig square.
You now need to cut away one corner of the jig to guide the router when cutting the tenon. You can either equip the router with a bushing guide or use a top-bearing straight bit. I use a bushing with an outside diameter of 5⁄8 in. to guide my 1⁄2-in.-dia. spiral upcut bit, so I have to make the opening 1⁄16 in. larger than the tenon. On the jig, I mark two lines using a square; the first 1 9⁄16 in. from the open side of the jig, and the second 2 9⁄16 in. back from the squared-off end. The extra inch is removed when the miter is cut. With the bearing-guided bit (Freud #16-520), the dimensions would be 1 1⁄2 in. by 2 1⁄2 in. Cut the opening on the tablesaw using a tenoning jig and a crosscut sled.
For the full article, download the PDF below:
View PDF