Rip Thin Stock with a Fence-Riding Push Stick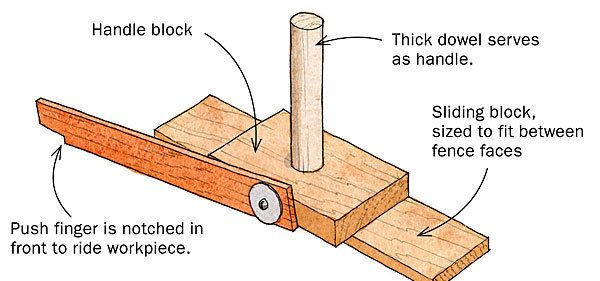 Oberwager devised this clever method for ripping thin strips on the tablesaw. This push stick rides in the channel on top of a Biesemeyer-style rip fence. Though ideal for any rip cut, the design is especially useful when I need to rip thin strips of a consistent width.
The push stick consists of three main parts: the sliding block, the handle block, and the push finger. The sliding block should be milled so that it is slightly proud of the fence faces. The handle block is flush with the fence face that's close to the blade. The notched push finger is 1/4-in.-thick hardwood, but a 1/8-in.-thick piece of aluminum would work as well. Attach the finger to the handle block with a screw and a large washer. The finger should slide against the rip fence.
To use, simply engage the workpiece with the finger and push through. When you're not using the push stick, just pop it off the rip fence.
Drawings by Jim Richey.

Drawings by Jim Richey