Vermont Natural Coatings, LLC - Review of PolyWhey Furniture and Floor Finishes
These water-based finishes use whey as a binding agent and have low levels of volatile organic compounds (VOCs)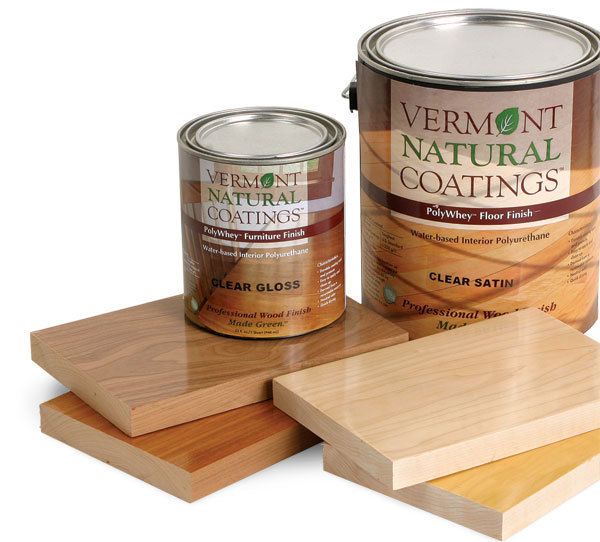 If someone mentions Vermont dairy products, you might think of Cabot cheese or Ben & Jerry's ice cream. Chances are you wouldn't think of a modern wood finish. That might change now that Vermont Natural Coatings has started using whey, a by-product of cheese making, as the bonding agent in two new water-based finishes: PolyWhey furniture finish and PolyWhey floor finish.
Both products have especially low levels of volatile organic compounds (VOCs). Indeed, they have no more than 180 grams per liter. That compares to 275 grams per liter for Minwax's water-based Polycrylic and around 750 grams per liter for shellac or solvent-based lacquer. In addition to being better for your lungs and the environment, these two finishes have almost no odor.
I first tried the gloss version of the furniture finish on a variety of woods. On the plus side, the finish went on easily when I used a fine-haired artist's brush. It took just three coats to get a good build. When used on maple, the wood maintained its naturally pale look. On the downside, using a foam brush left too many bubbles; when used with dark walnut the finish left an unpleasant purple/blue tint; and cherry and oak looked a bit lifeless.
I next used the floor finish on a flight of unfinished pine basement stairs. It went on easily with an artificial-bristle brush, didn't run on vertical surfaces, and sanded easily after less than two hours between coats. And, because I was working in a confined space, the low VOCs made life a lot easier. Go to www.vermontnaturalcoatings.com for more information.