Swinging Rack Adds Wall Space to Garage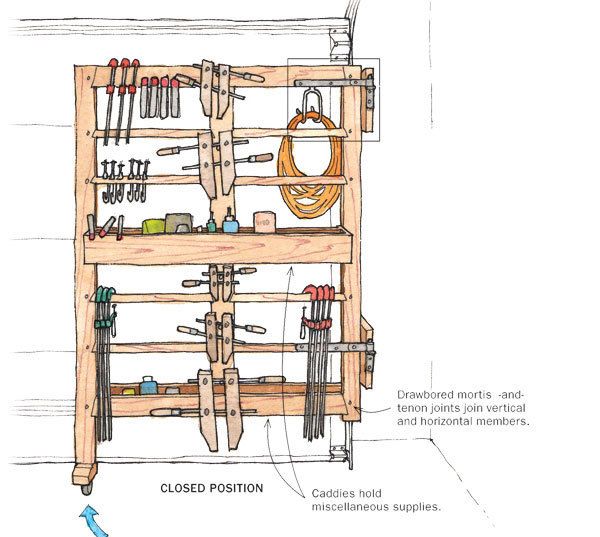 The double-car garage door severely limits wall space in my garage/woodworking shop. So I created a 4-ft. by 5-ft. swinging tool rack for hanging hand tools, clamps, and accessories. Mounted in the corner of the front of my garage, it can stay against the garage door until I have to get in or out that way. The rack does not interfere with storage on the adjoining wall.
I made the rack out of 2×4 and 2×2 lumber. Two heavy-duty fence hinges are bolted to two 10-in.-wide stand-offs to hold the rack away from the wall. The stand-offs, which can be any length, are lag-screwed into a stud in the garage wall.
The outside vertical member of the rack is a leg that ends in a locking, swiveling caster, which provides needed stability.
I could have built the rack out of 3/4-in.-thick plywood but decided to use it as an exercise in making haunched and pegged mortise-and-tenon joints. The joints are quite strong, without a nail or screw in sight.
I also built two 4-ft.-long caddies, one for each side of the rack. I used 3/4-in.-thick pine for the sides and 1/4-in.-thick Masonite for the bottom. One caddy holds gluing supplies, and the other holds my palm sander and other small sanders. To maximize storage space, I guess a guy could build a rack for each side of the garage, but that is for another time.
Drawings by Jim Richey.

Drawings by Jim Richey.