Finish Recipe: Spraying Lacquer
This quick and durable finish is a perfect fit for an everyday bookcase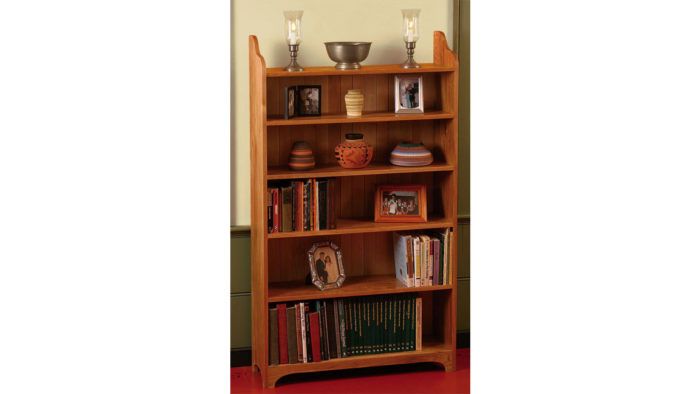 Finish and application: Spray lacquer
Skill Level: Difficult
Finish Products: Deft gloss lacquer, Renaissance wax  (available from Woodcraft)
Project Type: Bookcase
Maker: Martin J. Milkovits
Materials: Butternut, maple
A sprayed gloss lacquer builds and dries fast, is very durable, and is easily repairable. As with any finish, detailed prepwork is critical to success. To make rubbing out easier, prefinish the interior of the case–the shelves, back boards, and sides–leaving the exterior of the back, sides, and shelf fronts bare until the entire case has been assembled.
STEP-BY-STEP
1. Sand
Sand all the components, starting with P120 grit and finishing with P150 grit. Take great care when sanding near the dovetail slots to avoid fitting problems later. Dampen the pieces with water to raise the grain and help illuminate any defects that may need more prepwork. Hand-sand with P180 grit.
2. Mask joinery areas
Mask off the dovetails joints (keys and slots) as well as the rabbets in the sides to keep finish away from glue joints.
3. Spray the first coat
Spraying reduces application time and makes the finish easier to rub out. For this piece, I used Deft gloss lacquer, which makes it easier to control the sheen of the piece as it is being rubbed out. Mix the first coat fairly thin (about 70/30 mix of lacquer thinner to finish), checking the viscosity of the finish using a #2 Zahn cup. The first coat of finish should run at about 10 seconds. Spray the first coat, let it dry 20 minutes or so, then scuff-sand with P320 grit.
4. Spray subsequent coats
Mix a new batch of finish at about a 50/50 ratio of thinner to lacquer, adding solvent until the viscosity measured 15 to 18 seconds, then spray three more coats. Sand between coats with P320 grit paper.
5. Assemble the case
Before assembly, mask off any areas near the glue joints to prevent glue from sticking to the finished surfaces. Once assembled, I mask the inside to prevent overspray from hitting already finished areas, then repeat the finishing steps laid out above.
6. Rub out the finish
Begin with P400-grit paper lubricated with mineral spirits. Finish with 0000 steel wool.
7. Apply wax
Apply the wax with a cotton rag, let it dry a few minutes, and buff with a clean cotton cloth.
More on FineWoodworking.com: