Bosch - 3931A Airsweep Vacuum
This new wet/dry shop vacuum from Bosch includes an auto-start feature and it lets you dial in the operating amperage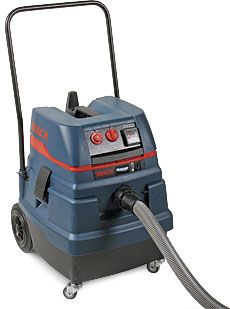 Bosch's new 3931A shop vacuum is easy on the ears and has several dynamic features that make it a great shop helper.
The vacuum's auto-start feature fires up the vacuum and a tool plugged into it simultaneously (top left) and shuts down seven seconds after you turn off the tool, enough time to clear the dust-collection hose. The Power Broker feature (top right) lets you dial in the operating amperage (and thus the suction rate) so you don't trip a breaker when both tools are activated—an especially handy feature when plugging in larger-amperage tools to the socket.
Dual filters located above the holding tank can catch 99.93% of particles 3 microns or larger. The filters can be shaken clean using the electromagnetic pulse-clean mode or they can be removed for more thorough cleaning. The hose inlet port accommodates standard 2-1/4-in. fittings and the vacuum includes a 1-1/2-in.-dia. hose with a 1-in. end adapter.
With all of its worthy features, the Bosch 3931A has become a much appreciated addition to the clean-air campaign in my shop.
Photo: Thomas McKenna