Carver's Stand Holds 30 Gouges
Double-decker stand keeps tools in sight and in order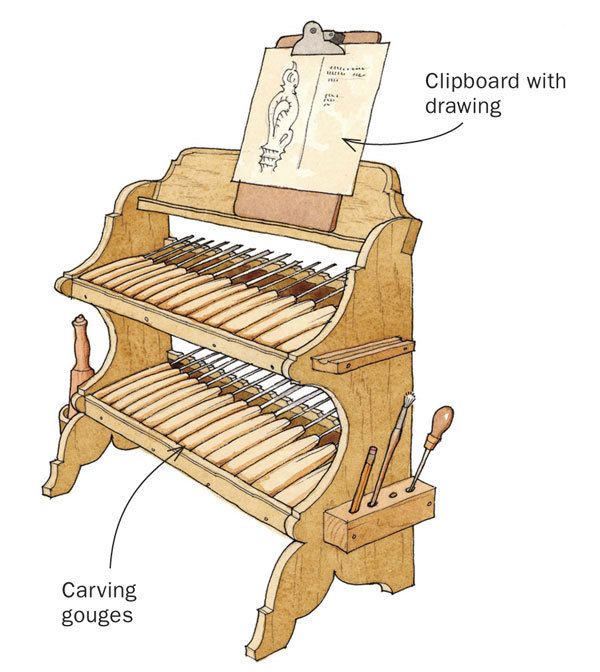 I specialize in making reproduction 18th-century furniture, so it's not unusual for me to use 30 carving gouges on one piece. With that many tools in play, an efficient storage system is a must; otherwise, I'd spend more time looking for tools than using them. This double-decker stand lets me grab the right tool almost from memory.
The design is my impression of what an 18th-century furniture maker might have built. The stand has two sides, two tool trays, and a rack on top to display a sketch of the carving. All the parts are pine. Screws hold everything together.
The tool trays are the heart of the stand. They feature multiple coves, one for each tool. I plowed them with an antique round-bottom plane, but you could either drill 1-in. holes into 2-in.-thick stock and then rip it on the bandsaw, or use a dado blade to cut recesses in 1-in. stock. I also cut a dado the length of the tray about where the tool handles meet the blades. This allows me to grab the neck of each tool easily with my fingers. Each tray also features a slat at the back to elevate each tool slightly. Finally I added blocks, hooks, and holders to the sides to accept a pencil, an awl, a mallet, and other tools I use when carving.
So that I can efficiently pull and replace gouges, I use a logical tool marking and placement system. First I mark each handle with the radius number and blade width in millimeters. Then I place them in ascending order by radius and width. After using this system for a time, I can locate the tool I need with just a glance.
Drawings by Jim Richey.