Using a Portable Bandsaw Mill
Watch how a portable bandsaw mill is used to create furniture-grade lumber from local trees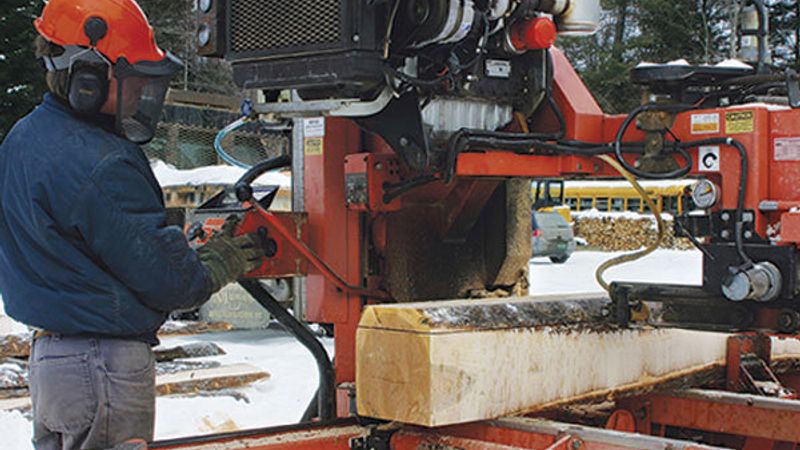 Matt Berger and Michael Dobsevage
Watch over the shoulder of furniture and cabinet maker John Ogden as he puts his portable bandsaw mill to work cutting fresh lumber from a plot of land near his Vermont home. Mill operator Cameron Chalmers, Odgen's brother-in-law and milling partner, demonstrates how to use a Wood-Mizer portable mill to cut up a tree into furniture-grade lumber, first milling the log into a square billet, then slicing it into 8/4 in. thick lumber.
Do try this at home
If you're interested in turning your backyard trees into lumber, Wood-Mizer maintains a list of sawyers around the country who do small, on-site custom milling. You can find a sawyer in your area by calling Wood-Mizer's free hotline at 1-800-553-0182.
Make your own lumber. A portable bandsaw mill can be easily towed and set up on site.
The cost of milling local trees varies by area. Sawyers may also charge an extra fee for replacement blades, which are often required when cutting trees that grow in residential areas. Those trees are notorious for giving bandsaw mills grief because they often accumulate nails and other objects in their lifetime.
Drying the wood. After the logs were milled, Ogden placed them on edge to dry for a few weeks before taking them to a kiln to be dried.
Drying the wood properly is also an important part of the process. Off the mill, Ogden's lumber had a moisture content of about 22 percent. It has to be dried to about 11 percent before it can be safely used for furniture. Air drying the wood is a long process and must be done with care and planning, while kiln drying can be costly.
Additional reporting and photos by Matt Berger