Brazed Thumbscrew Offers Extra Strength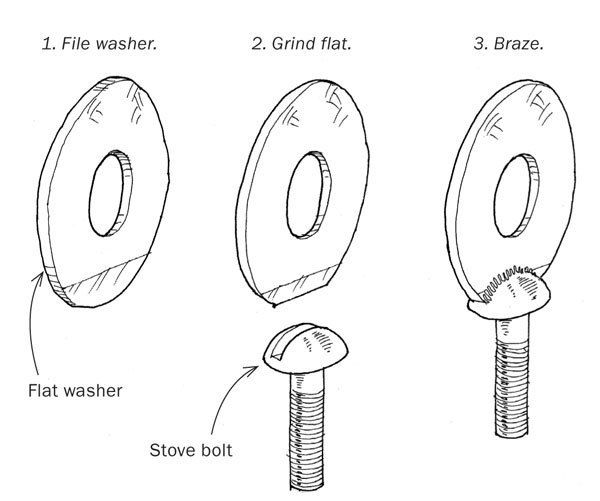 My jigs often have adjustable parts. To lock them in place, I use a thumbscrew made from a stove bolt (also called a round-head machine screw) and a flat washer. The thumbscrew is so sturdy that you can place a rod or screwdriver through the washer for leverage.
File the sides of the washer to fit in the bolt slot. Also, file a flat on the circumference of the washer where it fits into the slot. Then, with the washer in the slot, use a propane torch and silver braze rod (also called silver solder) to join the parts permanently.
To protect the bolt threads while brazing, thread a nut onto the bolt and tighten it up to the head. Then, with the nut as a holding point, clamp the bolt in a machinist's vise. After applying flux and brazing the parts, remove the nut from the bolt. This cleans any residual flux and oxide away from the bolt threads.
Clean the joint with a rotating steel brush. If you want it to look especially good, add one more step and polish it to a high shine.
Drawings by Jim Richey.

Drawings by Jim Richey.