Waterborne Finishes Come of Age
The best are now as good as or better than solvent finishes; the worst should still be avoided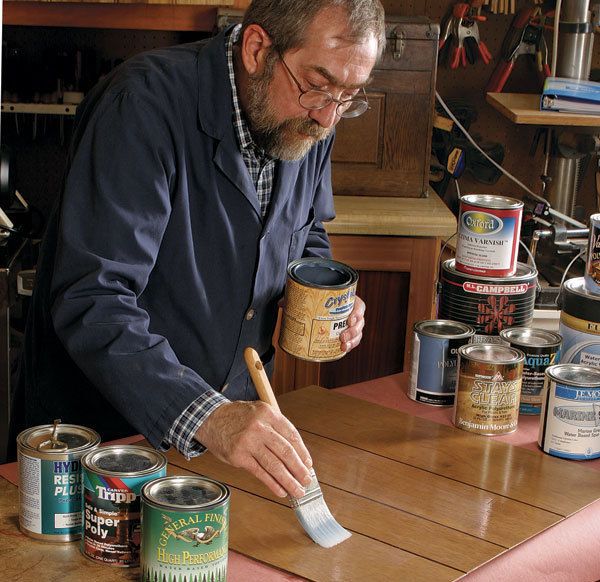 Synopsis: In the 11 years since consulting editor Chris A. Minick last tested waterborne finishes, these products have improved significantly. And that's good news, because waterborne finishes offer a package of benefits that no solvent-based finish can offer: they have less odor than lacquers, they dry quicker than oils, they offer more protection than shellac, and they are safer to spray. Minick tested 13 readily available clear waterborne finishes for ease of application by brush or spray gun, adhesion quality, surface hardness, heat resistance, stain resistance, clarity, and color.
Finishes tested include: Aquazar Water-Based Polyurethane, Benwood Finishes Stays Clear, Crystalac Premium Gloss, Fuhr 355 Acrylic Varnish, General Finishes High Performance, Hydrocote Resisthane Plus, J.E. Moser's Marine Shield, J.E. Moser's Simple Success, Minwax Polycrylic, ML Campbell Ultrastar, Olympic Polyurethane, Oxford Ultima Brushing Varnish, and Varathane Diamond Polyurethane.
When congress enacted the clean Air Act of 1990, doomsayers predicted that oils and waxes would be the only options for wood finishing. optimists said waterborne finishes would come to the rescue. but at the time, waterborne finishes were little more than latex paint without pigment; they were hard to apply, offered almost no protection, and looked bad.
Five years later I tested 15 waterborne finishes and found that while they had improved, they were still far from equal to their solvent-based counterparts. Even so, waterborne finishes offer a package of benefits that no solventbased finish can match. They have far less odor than lacquers; they dry quicker than oils and oil-based varnishes; they offer more protection than shellac; and they can be sprayed safely without an explosion-proof booth.
So fast-forward another 11 years and it's time to look at waterborne wood finishes again. I purchased 13 readily available, clear waterborne finishes, from the hardware-store variety to those aimed at professionals, and subjected each finish to a battery of tests. What I found surprised me. In the three critical areas of application, protection, and appearance, many of these waterborne finishes are every bit as good (or better, in some situations) as the solvent-based finishes I normally use in my shop. That's a bold statement, but here's how I came to that conclusion.
Whether sprayed or brushed, the finish must be easy to apply
The clarity of a particular waterborne finish or the protection it imparts to the wood matters little if you can't apply it without drips, runs, sags, or brush marks. I used a number of tests to evaluate the application characteristics of each finish. Some tests—viscosity and vertical sag—are industry standards; others—brushability, sandability, sprayability, and grain-raising—are of my own design.
Viscosity: Don't rush to thin a waterborne finish—With solvent finishes, viscosity usually has a direct effect on flow-out and leveling. Waterborne finishes are different. most are thixotropic; that is, they have a high viscosity in the can but "thin out" when brushed or sprayed. While low-viscosity waterborne finishes will run off a vertical surface, that doesn't mean that ones with high viscosities and great resistance to sag are impossible to apply. Try to brush or spray your waterborne finish straight from the can before you thin it—you may be surprised.
Vertical sag measures runs and drips—In this test, a notched drawdown bar applied 10 strips of finish that graduated in wetfinish thickness from 3 mils to 12 mils. The card was then hung in a vertical position and allowed to dry. The sag reading is simply the thickest strip that did not run or drip. Except for one, all the waterborne finishes had vertical sag values of 4 mils or greater. A typical brush coat is 3 to 4 mils thick, so runs and drips should not be a problem with most of these finishes.
From Fine Woodworking #187
For the full article, download the PDF below:
View PDF