Leigh Industries, Inc. - D4R and D1600 Dovetail Jigs
The Leigh dovetail jig -- available with 16 in. or 24 in. capacity -- cuts through, half-blind, and variable-spaced dovetails.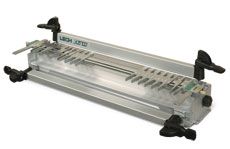 The Leigh jigs are built around a solid aluminum base unit, with quick and solid clamps, and a single ingenious template that produces both through and half-blind dovetails with variable spacing, as well as sliding dovetails. The jig comes with the cutters and guide bushings for these joints.
Complexity is the tradeoff with such a versatile jig. While the manual is the most clear and comprehensive woodworking equipment manual I have seen, it still took me about a half-day to master the basic joints. However, once I understood the basic jig, terminology, and marking system, I was able to cut a variety of joints very quickly. Diagrams on the jig itself act as helpful reminders.
The key to the Leigh design is the sliding template fingers, which allow beautiful dovetail configurations to be arranged by eye, with the fingers always locking down level and straight.
The shorter Leigh D1600 (not shown) is a great value, offering all of the features of the D4R except adjustable pin size, a feature I consider insignificant.