General - 40-010 Dovetail Fixture
General International's 40-010 Dovetail Fixture cuts half-blind dovetails in material up to 12 in. wide.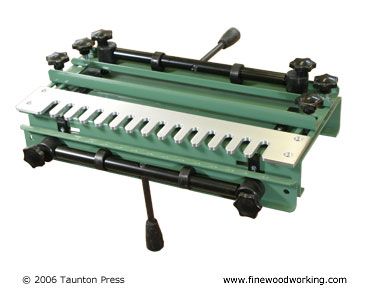 General International's 40-010 Dovetail Fixture comes fully assembled but it requires an initial setup before it can cut half-blind dovetails. A 16-page manual contains good safety information, a parts breakdown, and clear instructions and illustrations. However, the jig was still difficult to set up and use.
The jig had separate offset guides on the side and top requiring separate adjustments to achieve the required 1/2 in. spacing between them. The screw heads were located under the pressure bars so to adjust them you must remove the front pressure bar and loosen the top pressure bar.  And the small knobs were hard to tighten. Also, a template is supported in the back, but it allowed for about 1/16 in. of error when positioning it on the work piece.