Planer Cabinet Doubles as Outfeed Table, Stores Out of the Way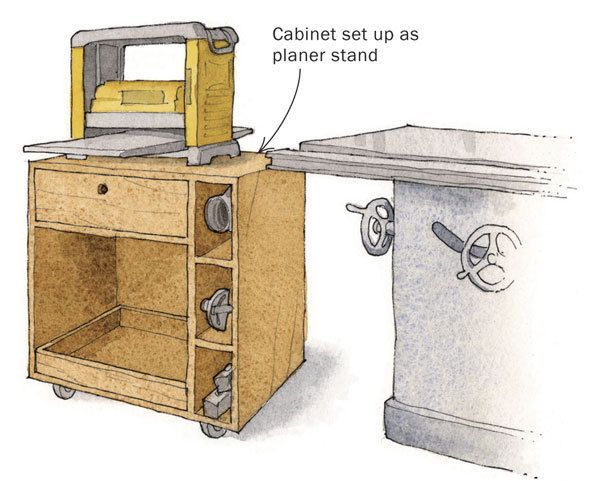 Because space is at a premium in my shop, I built a roll-around cabinet for my benchtop thickness planer. When in use, the planer sits atop the cabinet. When not in use, the planer is placed on a shelf under the cabinet, and the cabinet is rolled out of the way under the extension wing of my tablesaw.

The cabinet is made from 3/4-in.-thick birch plywood, edged with solid birch. The stand has a drawer on top, a pull-out shelf down below, and three storage bins along one side. Since the stand usually is parked under my tablesaw, I use the upper drawer and the bins to store tablesaw accessories-blades, miter gauge, dado set, inserts, and the like. The bins also serve as a place to store planer accessories. To use the stand as an infeed or outfeed table, I add two rollers to the top of the stand. Each roller is mounted to a plywood base with dowels on the bottom that fit into holes drilled in the cabinet top.
A pair of removable rollers on the top of the stand allow it to serve double duty as either an infeed or outfeed table for my tablesaw.
Juris Pukinskis started making sawdust in Mr. Miller's seventh grade woodshop. Later, he graduated to building houses and furniture in Storrs, Conn. This fall, he's moving his family and shop to Ithaca, N.Y., where new adventures await.
Drawings by Jim Richey.

Jim Richey