Kansas City Windsor Tool Works - Spokeshave
This spokeshave from Kansas City Windsor Tool Works features a well-tuned A-2 steel blade and curly-maple body.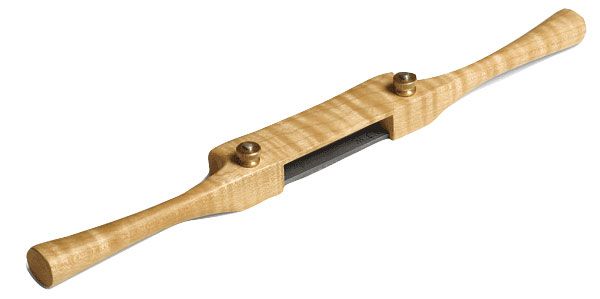 It used to be that when you spent a few dollars on a new spokeshave, you still had several hours of tune-up time ahead of you. Not so with this new spokeshave made by Kansas City Windsor Tool Works. The A-2 steel blade is sharpened before it's shipped, and the tool is tuned for optimum performance. The first things I noticed about this spokeshave were its beautiful curly-maple body and its light weight. The position of the cutting edge can be finely adjusted in relation to the inlaid brass sole, or wear plate. The low-angle blade makes it easy to maintain the edge because the bevel side is hollow-ground. This spokeshave excels on end-grain cuts.
You can buy one from either the maker (816-523-8745, www.kcwtw.com) or from the Tools for Working Wood catalog (800-426-4613, www.toolsforworkingwood.com).
—Chris Buchanan makes chaires and teaches woodworking in Jonesborough, Tenn.