Innovative Plunge Router from Down Under
Triton MOF001KC gets high marks for ergonomics and safety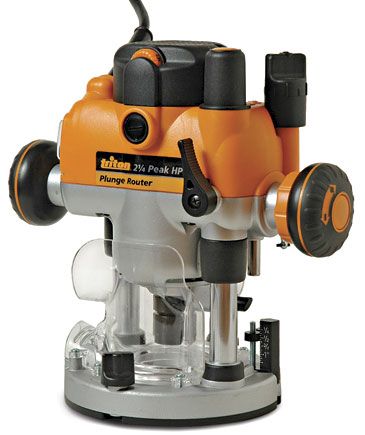 The new 2-1/4-hp Triton plunge router (model MOF001KC) is a versatile, easy-to-use machine designed with ergonomics and safety in mind. Made in Australia, the router excels at both plunge- and table-mounted routing and offers a number of features that distinguish it from other plunge routers on the market — all for $200.
When plunge-routing, the Triton allows precise, on-the-fly depth adjustments. A push button in the center of the right-hand knob controls the plunge mechanism, and a ring on the inside of the knob dials in the depth with a rack-and-pinion system. The router also features a microadjust knob for added precision, as well as excellent dust control with an integral dust port in the base.
Depth stops are adjusted with the typical three-position turret on the router base. But thumbwheels on threaded shafts allow fine-tuning of two of the turret positions, and the spring-loaded depth rod is easily locked down.
The Triton also is well-suited for table-mounted applications. The microadjust shaft is accessible under the router base for above-table height adjustments with an included crank handle.
Bit changes are a cinch, too. When the collet is extended past the baseplate, it locks in place, allowing for single-wrench bit changes and eliminating painful knuckle-raps.
The router and kit, which includes a fence that can be adapted for circle-cutting applications, seven template guides, and the router-table crank handle, is available for $200 at Amazon.com. You can find out more about the Triton router by visiting www.Triton.com.au.
Roland Johnson is a contributing editor.
Photos: Roland Johnson