Beach-Combing Yields Furniture Detail
Caribbean fan-coral adds interest to projects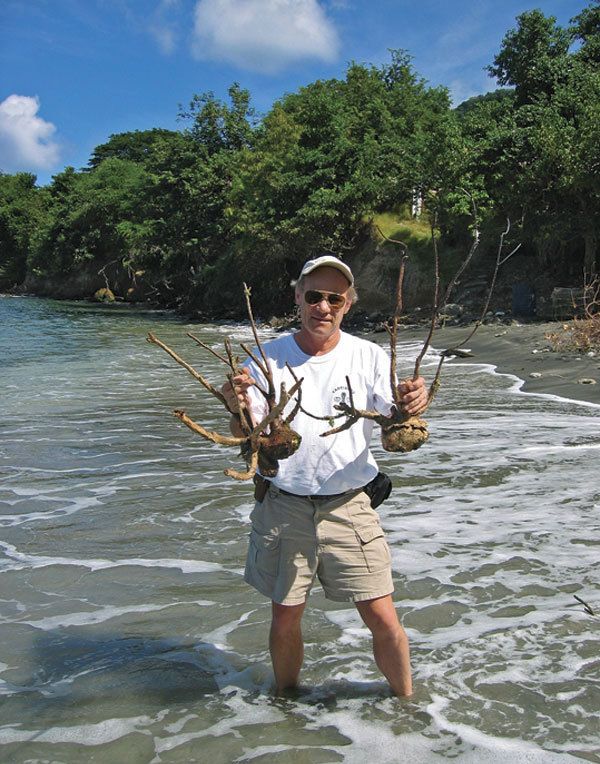 Among the pieces shown at the recent Northern Woods exhibition sponsored by the Minnesota Woodworkers Guild, a cabinet and music stand by maker Mark Munson drew attention for their use of a unique material.
Both pieces featured parts made of fan coral, storm-tossed onto Caribbean beaches and gathered by Munson on the island of Carriacou. His find highlights the advantage of keeping an eye out for unusual materials.
Sanded to 180-grit and polished on a buffing wheel, the material has a burled appearance, varying from dark brown to black and highlighted by streaks and swirls of white.
| | | |
| --- | --- | --- |
| |   | A woodworker's treasure. Fan coral washed ashore by storms makes attractive drawer pulls and other accent pieces. |
Fan coral cuts, sands, and finishes like most woods, Munson said, but has an unpleasant, dead-fish smell when sanded. Because its diameter is rarely more than 1 in., he finds the material best suited for drawer pulls, accent pieces, inlay, or small turning stock.
You can find the material for sale on the Internet, but the best way to make sure that it is gathered responsibly is to do it yourself. On a trip in January, Munson spent five days beach-combing and brought home 50 lb. of brown and black fan coral.
"What a great excuse for a vacation," Munson said.
Steve Scott is an associate editor.
Photos: Barbara Munson (furniture) and Jeff Argir