Veritas - Spokeshaves
This spokeshave set by Veritas includes flat, round, and concave spokeshaves.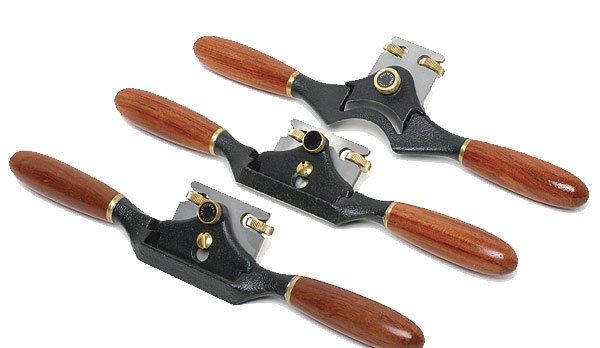 Veritas Tools has introduced a trio of adjustable spokeshaves-flat, round, and concave-that take a large step forward from the Record and Stanley adjustable spokeshaves of past decades. With nicely machined ductile-iron bodies and caps, African rosewood handles, thick A-2 tool-steel irons, and a superior thumbwheel blade-adjustment system, the Veritas shaves make my old metal spokeshaves seem ordinary and have all but banished them to the relic drawer.
 
All three are comfortable to use. The blades are fairly easy to flatten and hone, the soles of the tools are shaped accurately, and the blade-adjustment wheels allow you to dial in any cutting depth in a flash. Plastic blade shims are included with each tool, and are used to raise the blade off the bed to create a narrower mouth opening for finer cuts if needed. I get great results even in figured woods without the shims, so I don't bother with them.
The Veritas spokeshaves are priced squarely between the mass-produced Stanley-type adjustable shaves and the more refined Lie-Nielsen Boggs shaves. As such, they are a solid value and as good a set of spokeshaves as I will ever need.