Grizzly Industrial - Router Table G0528
The Grizzly router table features a sliding top and a fence system with t-tracks to accommodate accessories such as hold downs.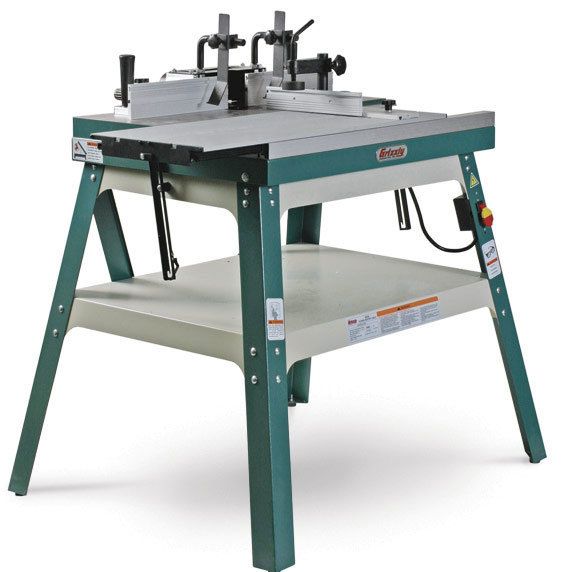 The author evaluated 13 router tables for the sturdiness of their tables and fences, for dust collection, and for ease of operation and setup. A good router table is flat and has a stout base and a fence able to support jigs and hold-downs. 
The Grizzly is the only router table we tested with a sliding top. The front portion of the table slides, with its edge 5-1/2 in. from the center of the bit. This could be a useful feature when machining larger raised panels. The individually adjustable aluminum infeed and outfeed fences allow jointing perations, and have a single T-track on the fence and miter-gauge faces. T-tracks on the table and the included crosscut fence provide mounts for jigs. Simple and effective hold-downs are located on the regular fence and crosscut fence. Although this table has a lot going for it, the author found the bracket mounts for the router difficult to use. He thought it would be better to buy a dedicated router base and leave it attached. The cast-iron top tilts up and locks for access when mounting the router base, but its weight calls for caution. It could be a finger-pincher if the user were to drop the top.