Esta-USA - Dispoz-a-Blade Knives
Dispoz-a-Blade uses double-edged, disposable knives on a reusable holder to make it easy to change knives or reverse the blades to a sharp edge.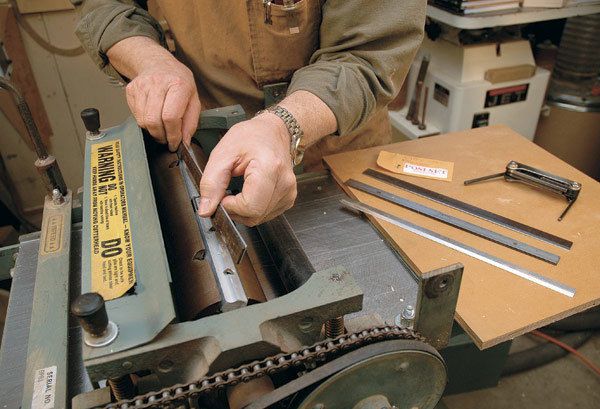 Changing knives on my planer used to be one of the most dreaded chores in my shop. Even with the relatively good setting gauge I bought a few years ago, the process took at least an hour. I recently came across an advertisement for the Dispoz-a-Blade disposable-knife system, ordered a set for my old Belsaw planer, and couldn't be happier with the results.
Dispoz-a-Blade uses double-edged, disposable knives. They are located precisely by pins on a reusable holder, and are secured in the cutterhead slot by knife supports, which are rare-earth magnets accurately sized for proper blade extension. Changing knives or reversing the blades to a sharp edge is a simple matter of loosening the gib screws, removing the knife and holder, changing or rotating the knife, reinstalling the holder in the cutterhead, and tightening the gib screws. Shifting a nicked knife is equally simple. The initial setup took about half an hour, and the cutting action is as good as my original knives freshly sharpened and accurately installed.
A set of three disposable 12-in. knives costs $39, which is comparable to the cost of a couple of professional sharpenings. A 12-in. starter kit, which includes a set of three knives, three holders, and six Posi-Set knife supports, costs $263 (plus shipping and handling). Sets are available in 6-in., 8-in., 12-in., 15-in. and 24-in. sizes for virtually any planer or jointer. 
—Roland Johnson is a contributing editor.