Getting a Basement Space to Work for You
Shop design tips for the at-home woodworker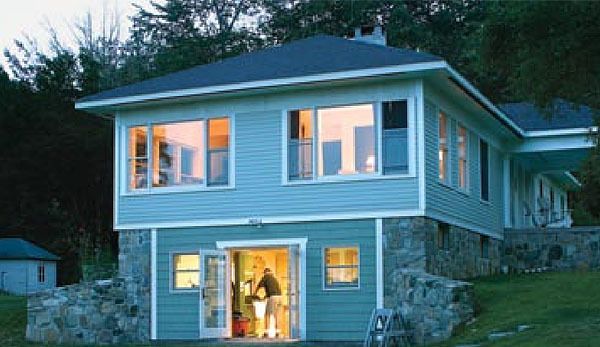 Synopsis: Not much light, not much air circulation, not much headroom. How do you make such an unappealing space into a functional shop? William Duckworth opted for an open floor plan, easy-access doors, a high ceiling, fluorescent lighting, and ample electrical power in his basement shop addition.
---
Nowadays I make a living with words, not wood, but for the better part of two decades I worked full time as a cabinetmaker. Along the way I had five different shops, two of them in basements. To be kind, I'd characterize those basement shops as less than ideal—there was not much light, not much air circulation, and not much headroom. One had a river running through it every time it rained. So when my wife and I built an addition to our house recently and decided that the new basement was the place for my shop, I was determined to steer clear of those miseries.
If you are planning to include a basement shop in a new house, an addition, or an existing space, you might benefit from my experience. I found that by attending to a few key design considerations you can make a sweet shop in a subterranean setting. One important note before I begin: Whether or not you are working with an architect, it's best to address all of your concerns before the drawings are done. Making changes after construction begins is needlessly expensive.
The floor plan: Strive to keep it open
One of my old shops was in a postand-beam building with a grid of support columns cluttering the floor space every 8 ft. The posts limited the placement of machinery, interfered with work flow, and drove me mad.
When my wife and I designed our addition, we decided to avoid the encumbrance of posts or load-bearing walls by carrying the load from the floor above with a steel I-beam. My wife is an architect, but we consulted an engineer to size the beam. We also had to work out the details of how it should tie into the concrete foundation walls and fabricate the forms accordingly.
The beam was surprisingly affordable, and it provided a convenient mount for a hoist to lift heavy machines.
From Fine Woodworking #181
For the full article, download the PDF below:
View PDF