Router Fixture for Dovetail Pins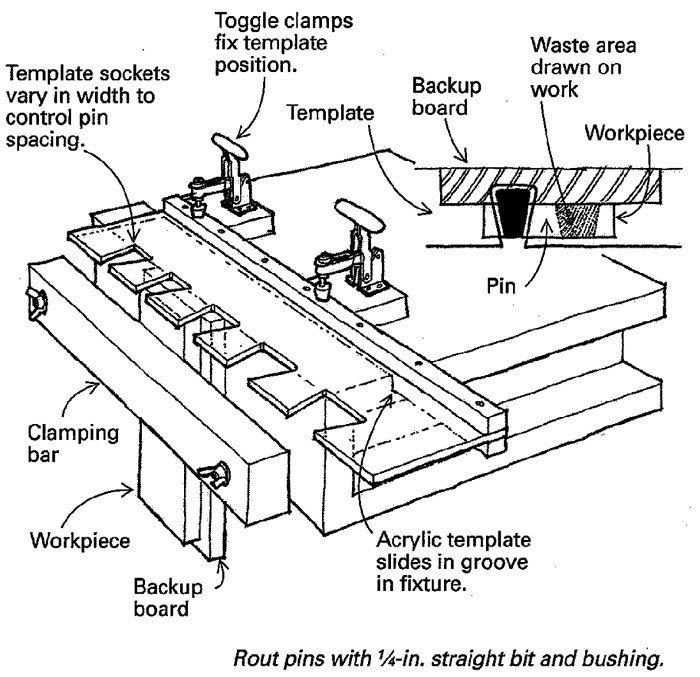 My variation on routing dovetails involves cutting the pins with a router equipped with a 1/4-in. straight bit and a bushing that follows an acrylic template.
I mark the pins on the edge of the workpiece, and clamp the work to a fixture made of 1-1/8-in. particleboard. For through dovetails, sandwich a sacrificial piece of scrap between the work and the fixture to prevent tearout in the workpiece and damage to the fixture. For blind dovetails, clamp the work directly to the fixture.
Slide the template into position over the workpiece. The template controls the spacing between the pins. I've cut several opening sizes on mine. They vary the pin spacing between 3/4 in. and 2-1/4 in., in 1/8-in. increments, depending on the bushing. For accuracy, make the template's angled cuts on the tablesaw.
Clamp the template into place with two toggle clamps, as shown. Set the router to the desired depth, and remove the material between the first two pins. Loosen the clamps, and reposition the template by eye to the layout lines for the next cut. It takes less than 5 minutes to cut the pins on one edge of a typical drawer. When cutting half-blind dovetails, the router bit leaves rounded inside corners that must be cleaned up with a chisel.
To complete the joint, I mark the tails from the pins and cut to the lines with a bandsaw. I chop out the waste with a chisel.
Jim Hale, Saline, Mich.
Fine Woodworking Magazine, April 1996 No. 117