Glen-Drake Toolworks - Marking Gauge (Tite-Mark) – Double Mortise
The Tite-Mark combination marking gauge features a micro-adjustable fence and is available in two lengths.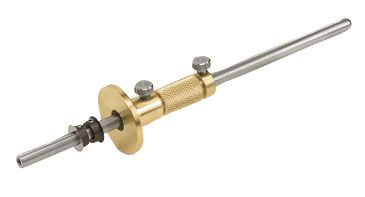 The Tite-Mark gauge features a circular fence that slides along a cylindrical beam. Also, the cutter, located on the end of the beam, is disc-shaped. But what sets apart the Tite-Mark from other metal marking gauges is its micro-adjustment feature. To change the distance from the fence to the cutter, simply turn a knurled, brass barrel. And because one turn of the barrel translates into a fence movement of 0.100 in., adjustments as low as one-quarter turn (or about 0.025 in.) are easy to approximate.
In use, the gauge works nicely. It fit well in my hand, although a nylon tension screw, which doesn't seem all that necessary, dug into my fingers. The fence hugged the wood, and the cutter cut cleanly.
On the downside, the circular cutter can't be adjusted to make a heavy cut, something I occasionally want from a marking gauge. And the Tite-Mark is less useful when laying out a mortise and tenon, where a double-pin-style gauge is a plus.
For those interested in a beautifully machined, top-quality marking gauge, this one is well worth a look.