Lie-Nielsen - Low-Angle Skew Blade Rabbeting Block Plane
This skew block plane from Lie-Nielsen functions as a rabbet plane, a fillister planer, or a standard low-angle block plane.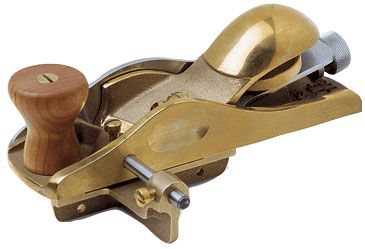 This skew block plane is the "multi-tool" of the low-angle block-plane family: It functions as a rabbet plane, a fillister (fenced rabbet plane), or a standard low-angle block plane—an impressive portfolio for the money. A beautiful tool made from manganese bronze, steel, and cherry, this plane has great heft and is well balanced. Like the other Lie-Nielsen planes, the skew block has a large solid bed for the blade and similar lateral adjustment and depth-of-cut mechanisms.
The skew blade sets this tool apart. It does not have an adjustable throat. The blade produces a shearing cut, helpful in planing end and cross grain. I found the setup, sharpening, and adjustment a bit tricky due to the skewed nature of the tool.
One distinctive feature is the steel plate on the side of the tool that can be removed to expose the edge of the blade, turning it into a rabbet plane. In this mode, the plane can be used to size tenon cheeks and smooth the bevel on raised-panel doors (after roughing them to shape on a tablesaw). By attaching the fence, you can transform this plane into a fillister plane, cutting rabbets both with and across the grain, but you need to define the rabbet first with a marking gauge.
Using this tool as a shoulder plane is problematic. Trying to size tenon cheeks proved a bit challenging because the blade projects on the right side only. I either had to use the plane left-handed or pull it toward me with my right hand.