Craftsman - Drum Sander 21518
Craftsman offers a 3 hp version of this tool as model No. 21568.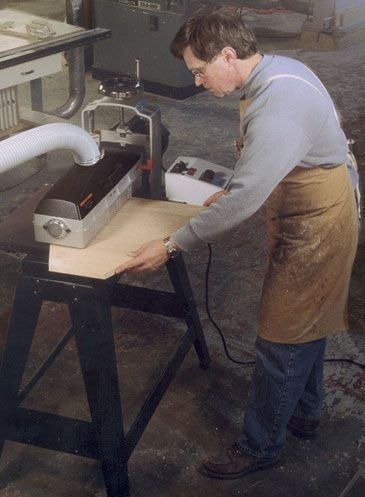 Faster, more accurate and a lot less physically demanding than using a belt sander, a good drum sander can take the drudgery out of sanding panels and face frames. Recently, Craftsman introduced its model 21518, a drum sander for the home woodworker or one-man commercial shop.
The machine features an 18-in.-wide sanding drum and a frame that's open on the end, which lets you sand stock up to 36 in. wide. The stock must be fed through the machine a couple of times—a first pass sands half of one side of the board, then, with the board turned end for end, a second pass sands the remaining half.
I did all of the sanding for the review using the 80-grit belt that's included with the drum sander. Other grits—50, 150 and 200—can be ordered from Sears Parts (800-366-7278).
With a 13-amp, 1-1/2-hp, 1,720-rpm motor, the sander proved to have adequate power for light sanding duty. Power for the feed belt came courtesy of a variable-speed, low-voltage, d.c. motor. The variable-speed feature made it easy to adjust the feed rate—from 1 to 18 ft. per minute—to suit the material being sanded.
On the downside, this sander required more than its share of adjusting to get it running right. I had to tighten the coupler between the motor and the drum and adjust the drum for parallel with the feed table. Then, after fussing with the tracking of the feed belt, I had to adjust the coupler between the powered feed roller and the gear-reduction motor that drives it.
Also, when sanding full width, the drum sander had to be tilted slightly, effectively creating a wider opening on the outboard end of the drum. This step eliminated the lap mark where the sanding passes overlapped. But it was a tedious process.
All things considered, though, once the machine was tuned, it did an adequate job finish-sanding stock.