Drill-Press Mortising Fixture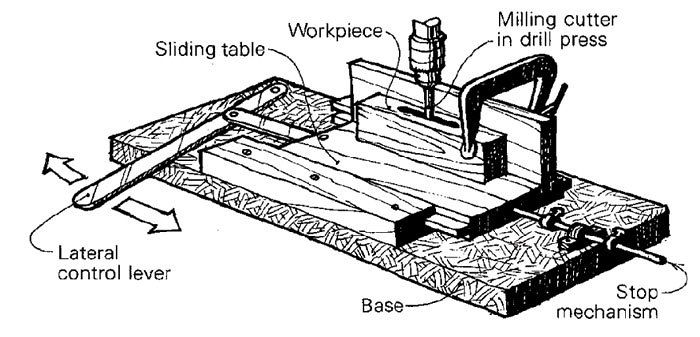 Here's a fixture for cutting mortises on the drill press using fluted end-milling cutters. A lateral control mechanism, made from 1/8-in. steel plate, pivots at three points and gives the fixture the back-and-forth movement needed to cut the mortise. The stop mechanism is a 1/4-in. rod that passes through a collar piece that is screwed to the base. Two sliding collars, fastened in place on the rod with setscrews, limit the movement of the sliding table. To use, clamp the fixture to the drill-press table. Clamp the work to the fence and set the stop collars for the size mortise needed. Your right hand, on the drill-press feed, controls the depth of the mortise, while your left hand controls the lateral movement for the length of the mortise.
Mario Rodriguez, Brooklyn, N.Y.
Fine Woodworking Magazine, August 1981 No. 29