Centering Routed Mortises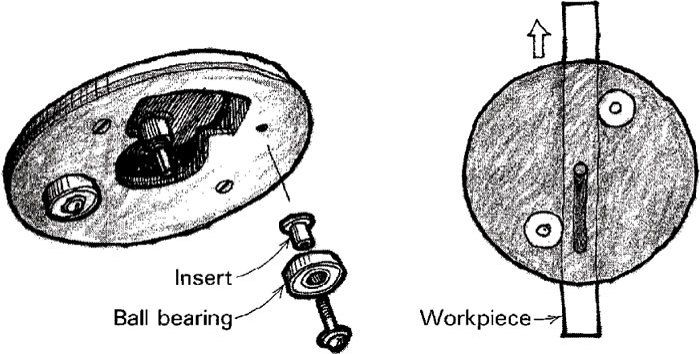 John Birchard's door-making article (FWW #49) prompted me to send this mortise-centering idea I've used for quite awhile. Like Birchard, I use a plunge router to cut mortises in the stiles of frames. However, instead of using a fence to center the mortise, I attach two small ball bearings under the router base. On the Hitachi router I use (and most other routers), the subbase is attached with four screws. I remove two diagonally opposite screws and replace them with the bearing shown in the sketch. The bearing rides on a shopmade press-fit insert that is slightly longer than the bearing's thickness, and that has an inner diameter to fit the bolt. The flange at the end of the insert can be machined as part of it, or it can be a separate washer. It need only be thick enough to prevent the bearing from rubbing on the router base.
In cutting the mortise, the bearings ride against the sides of the stile, automatically centering the mortise in the work. The size of the bearings is unimportant, as long as both are the same. Note that when cutting mortises near the end of the stile you must have an excess length, a "horn," for the bearing to ride on. Leaving a bit of excess to be trimmed off later is good practice anyway.
David Ring, Yodfat, Israel
Fine Woodworking Magazine, August 1985 No. 53