Ryobi - 3-in. by 21-in. Belt Sander BE-321 VS Type II
Ryobi's 3-in. by 21-in belt sander features a variable-speed motor and dust collection.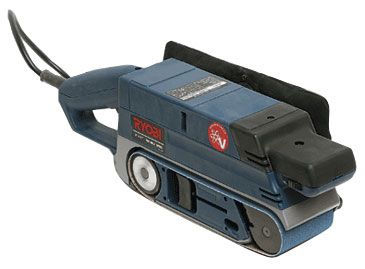 According to belt-sander manufacturers, the biggest sellers are the 3-in. by 21-in. models, so we decided to take a close look at what's available. The good news is that we didn't find any glaring performance problems, which made it difficult to pick clear winners. To rate stock-removal and dust-collection effectiveness, each sander and sample board were weighed before and after a timed run. At the end, the difference between the weight of the board and the machine (plus dust bag) indicated how much sawdust was collected, expressed as a percentage. The Ryobi is a compact, well-balanced tool. The belt-tensioning lever was comfortable to use, the speed-control adjustment was easy to reach, and the side-mounted dust bag has a zipper. Dust collection effectiveness was 94%.