All About Table Saw Accessories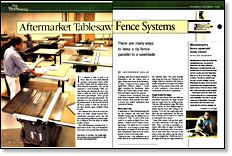 Tablesaws are central to many woodworking shops, and a long list of accessories make these versatile tools even more useful, and safer, than they already are.
What Counts:
• An accessory must fit your saw
• Sturdy and accurate
Guiding work on the rip and crosscut
Rip fences and miter gauges are the typically the first tablesaw accessories that are added to the woodworker's arsenal. What comes as standard on many tablesaws can be a disappointment, and a number of manufacturers make aftermarket alternatives that will significantly improve performance and accuracy.
Heavy fences — like those made by Biesemeyer — are less likely to flex under load and stay parallel to the blade. Models that do not require a locking rail at the back of the saw make it easier to add an outfeed table.
There are a number of miter-gauge options that have more precise settings and more flexibility than the standard-issue gauge that comes with many saws. Some can be calibrated for precise joint-making.
Jigs and accessories
Tenoning jigs and angle jigs that ride in the saw's miter-gauge slot are useful for cutting a variety of joints. A micro-adjust feature on some models makes it easier to dial in very precise settings.
Zero-clearance throat plates made from phenolic resin or a similarly stiff material help to prevent tearout in splintery materials like hardwood veneer plywood or melamine. Some versions have replaceable inserts that share a common frame.
Aftermarket blade guards are better than most original equipment, which many woodworkers remove from their saws to improve visibility of the blade. Telescoping models may contain a dust collection hose.
Power feeds keep fingers safely away from stock as it travels past the blade while ensuring a uniform feed rate.
Featherboards that fit in the miter-gauge slot or are held in place with an integral magnet keep stock snugly against the fence for straighter and safer cuts.
Splitters reduce the risk of kickback by keeping stock away from the leading edge of the saw blade. Aftermarket splitters can be added directly to the table insert or installed on a bracket; several offer a quick-release function to make removal easier.