Pros and Cons of Oil Finishes
These popular finishes are easy to use, but you need to pick the right one for the job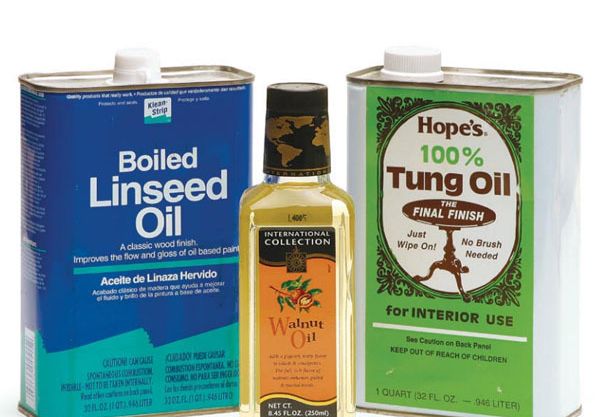 Synopsis: Consulting editor Chris A. Minick explains the chemistry of boiled linseed oil, tung oil, and walnut oil, helping you to select the one that's right for your project. He offers tips for using these popular finishes and discusses the differences between pure oil finishes and oil/varnish mixes. Side information addresses the fire hazard posed by oily finishing rags.
In a recent poll on the Fine Woodworking Web site, more than half of readers chose either pure oil or an oil/varnish mix as their favorite finish. This is not surprising, given that oil finishes are easy to use, easy to renew, and above all, hard to mess up.
But there still is a lot of confusion about oil finishes: What are the merits of different types of oil? What can oil finishes do and not do? What are the differences between pure-oil finishes and oil/varnish mixtures?
Not all oils are suitable for finishing
Vegetable oils form the largest family of natural resins used for finishing wood. These oils are divided somewhat arbitrarily into three classes: drying oils, semidrying oils, and nondrying oils.
Only the drying oils, primarily linseed oil and tung oil, can form a cohesive, hard film when used as a wood finish. Linseed oil is derived from flaxseed, while tung oil, also known as China wood oil, is obtained from the nuts of the tung tree. Semidrying oils like soybean, safflower, or sunflower are used in the manufacture of oil based varnish. Nondrying oils such as corn, cottonseed, coconut, and olive are better used as salad dressing than as wood finish.
Your doctor may have advised you to switch from saturated to polyunsaturated fats, and as it turns out, what is good for your health is good for your finishing, too. Polyunsaturated oils have a greater number of double bonds in each fattyacid segment, making them more chemically reactive. Not only can your body digest them more easily, but when applied to wood, they have better drying characteristics. For instance, raw linseed oil dries when applied to wood, but soybean oil does not. That's because more than half (52%) of the fatty-acid segments in linseed oil contain three double bonds, whereas only 9% of the segments in soybean oil have three double bonds. Tung oil dries even faster because 80% of its molecules contain three double bonds.
How oil finishes dry
Tung oil and linseed oil dry to a usable finish in a two-step process: Oxygen is absorbed into the wet oil around a molecule's double bonds to form peroxide. This oxygen absorption takes a surprisingly long time, ranging from eight hours for boiled linseed oil to about five days for raw linseed oil. Next, the peroxide decomposes to produce very reactive free radicals, which attack the unsaturated fatty-acid segments of another oil molecule.
From Fine Woodworking #177
For the full article, download the PDF below:
View PDF