Ancient lumber from New Zealand and South Carolina
Lumber salvaged from sand pits and peat bogs is more than 40,000 years old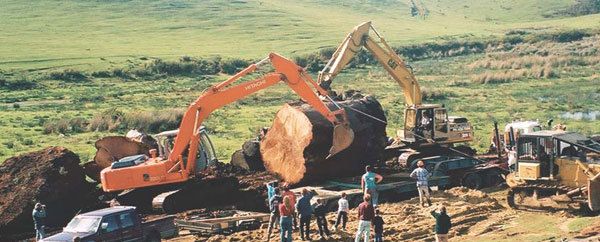 You may have been excited to pick up some lumber reclaimed from a neighbor's barn, but those boards are young compared with some of the wood surfacing recently. In the last few years, excavators in South Carolina and New Zealand (see photo, above) have pulled workable logs from soggy ground that has preserved some of them for up to 50,000 years. This wood is now reaching the market.
For more than 30 years, excavators at a South Carolina sandpit had been ignoring the logs they were hitting 40 ft. below the surface.
Out of its sand trap. Cypress being unearthed from the depths of a sandpit. Photo courtsey of River Cypress LLC.
In June 2003, Ricky Cox sent a sample of the unearthed wood to the University of Georgia for carbon dating. The sample was at least 44,000 years old, notable even to the Smithsonian Institution.
Ancient wood. 40,000-year-old cypress is straight grained and decay resistant.
The wood is related to modern bald cypress, a species known for its decay resistance. It can be used both outdoors and indoors in many of the ways modern cypress is used, including furniture. Like modern cypress, the ancient wood has a regular, straight grain, but its growth-ring structure appears tighter than that of many modern samples.
Cox said he plans to sell the wood at $100 a board foot through J. Alexander Wood Products ([email protected]; 828-439-9761). Keith Smith of J. Alexander anticipates interest from artists and firms involved in high-end architectural millwork. He also said the wood varies in strength, with the average board as strong as yellow poplar.
But ancient lumber is, so to speak, nothing new. In the late 1980s, New Zealanders started putting ancient kauri logs on the market. The logs, long buried in the peat swamps of New Zealand, appear at the surface as the swamps drain. Excavators are brought in to dig out the well-preserved logs, some as large as 8 ft. in diameter.
A gem in the rough. Salvaged from peat bogs, ancient kauri is said to have an iridescent, lit-from-within appearance when polished.
Wisconsin cabinetmaker and co-owner of Ancientwood, Ltd., Robert Teisberg described the wood as having a unique iridescence and coloration. Teisberg said that when finely sanded (past 600 grit) and polished, the wood seems to glow, as if there were a light behind it. The wood, carbon-dated by the University of Waikato in Hamilton, New Zealand, to be more than 50,000 years old, machines similarly to cherry and is just a bit softer. Prices run about $25 a board foot. (For more information, go to www.ancientwood.com.)
-12/1/2004
From Fine Woodworking #179
Photos: Courtesy of Ancientwood, Ltd. (top); Steve Scott (boards)