Shoulder Planes Reviewed
Furniture makers can choose from a wide variety of high-performance tools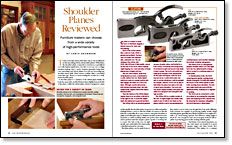 Synopsis: A well-tuned shoulder plane is a necessary part of any well-equipped workbench, woodworker Chris Gochnour affirms. Used to refine and perfect joinery, a shoulder plane can perform any smoothing task that requires controlled and precise cuts, such as fitting into a corner. Gochnour reviews shoulder planes by Clifton, E.C. Emmerich, H.N.T. Gordon, Lie-Nielsen, St. James Bay, Shepherd, and Veritas, and offers a fine-tuning guide to help you get the most out of your plane.
From Fine Woodworking #171
Three tools that always find their way to my workbench are the smoothing, block, and shoulder planes. Of the three, the shoulder plane commonly is viewed as a specialized tool with limited application, but this is not true.
In a college furniture-making class I teach, students generally bring their own smoothing and block planes but end up borrowing my shoulder plane daily. Their actions confirm what I concluded some time ago: There is a never-ending list of tasks for a well-tuned shoulder plane.
A shoulder plane is a member of the rabbet-plane family. Its body has open sides, and the blade projects slightly from each side of the plane. Unlike the rabbet plane, which is designed to create a joint rapidly, the shoulder plane's purpose is to refine and perfect existing joinery. I use it to trim the cheeks of a tenon so that the joint has a pistonlike fit; to pare a tenon's end-grain shoulders to make an invisible glue joint; to eliminate machine marks from rabbet joints; to refine molding details and perfect their alignment; and to perform tasks that require a plane capable of working into a corner.
The heft of the tool, its tight mouth, and comfortable fit in hand make controlled and precise cuts easy. Shoulder planes can be made from either metal or wood. And even though they look quite different, both versions are capable of producing quality results. Metal shoulder planes generally have blades bedded at a low angle (20°) with a 25° bevel facing upward. The effective cutting angle is about 45°, low enough for end- and cross-grain work yet still capable of producing good results working with the grain.
The blades of wooden-body planes, on the other hand, are bedded at a much steeper angle, and their bevels face downward. This makes for a steeper cutting angle, varying from 50° to 65°, depending on the model. This cutting angle will excel in long-grain work with challenging hardwoods but potentially can limit the plane's utility in end-grain work.
For the full article, download the PDF below.
View PDF