Laminate Trimmers
The best machines are stable, easy to use with one hand, and don't require extra tools to adjust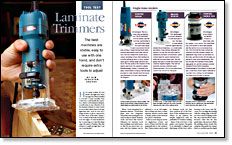 Synopsis: How many routers does one woodworker need? Kim Carleton Graves thought four was enough until he had to rout into a corner one day. Then he decided to add a laminate trimmer to his collection. Graves compared and tested both single-base and multiple base models, including the Virutex FR92D, Makita 3707FC, Hitachi TR6, Porter-Cable 309, Porter-Cable 310, Ryobi TR31, DeWalt DW673K, Bosch 1609AKX, Freud FT1000ET, and Porter-Cable 97311.
From Fine Woodworking #171
How many routers do you need? I thought four were enough, but when I needed to rout into a corner recently, none of the four could handle the operation. I had to add a laminate trimmer, a small router, to my collection. Now the laminate trimmer is what I reach for most often when I have to do any light-duty task, such as rout out a hinge mortise or plow a groove for an inlay. Most of the time, I keep a 1⁄8-in. roundover bit in the tool just to ease the edges of cauls headed for the vacuum bag or to take the sharp edge off a piece of lumber. Plus, the trimmer is small enough that I can use it one-handed.
When I went shopping for a laminate trimmer, I found that there were two categories: Those that were packaged to be used mostly for plastic laminate work, and those that weren't. Trimmers for laminate work have multiple removable bases, so the bit can reach into corners, and the trimmer can be adjusted to cut at odd angles. Most of them also have a seaming base, which is used to make a nearly perfect joint between two pieces of laminate.
In the second category are basic single-base routers, and most of them hold the bit only perpendicular to the work surface. These routers can be used for laminate work, but they don't perform all of the functions of the multiple-base machines. In my opinion, the simpler single-base units are preferable for furniture making.
Many of the tools have a trim guide, a nice feature. The guide is an adjustable L-shaped arm that hangs off the base, with a bearing at the lower end. Because you can align the bearing with the cutting edge of the bit, you don't need a bearing on the bit—any router bit will do. Manufacturers claim that the trim guide takes side pressure off the bit, yielding cleaner results. But using the trim guide also means that you can fine-tune the depth.
For the full article, download the PDF below.
View PDF