Veritas - Sliding Bevel No. 05N44.01
This is a good sliding bevel for working with larger pieces.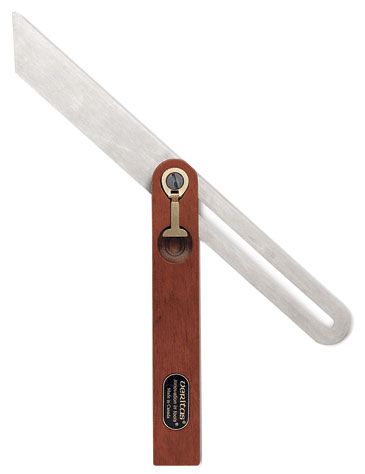 Although sliding bevels are not complicated tools, I learned that there are differences among them. Some differences are obvious and others are more subtle, but all have an effect on the quality of the tool. A sliding bevel consists of a body and a slotted blade that pivots on a machine screw or steel pin on one end of the body. A thin opening along much of the body accepts the blade. Manufacturers employ a variety of methods to lock the blade in place. A good sliding bevel will have a body and blade that are flat and straight and a locking mechanism that's strong yet unobtrusive.  Smooth working and attractive, the Veritas sliding bevel features a cam-style locking mechanism that worked well and held the blade securely. While the cam lock is located on the side of the tool, it is flush when locked, preventing it from getting in the way of your work. Veritas also offers a model with a shorter 4-in.-long blade that sells for about $40.