18-in. Bandsaws
These big machines excel at cutting thick stock and slicing veneers quickly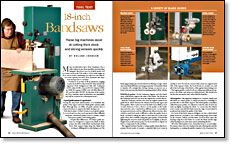 Synopsis: If you cut a lot of thick stock or resaw lumber, you might consider an 18-in. bandsaw, a major upgrade from the standard 14-in. bandsaw found in many woodworking shops. Contributing editor Roland Johnson reviews 18-in. bandsaws from 11 different manufacturers, assessing ease of blade changing, resaw performance, and overall quality of blade guides, fences, and tables. You'll also find a survey of four different styles of blade guides found on these models. Models include Agazzani B-18, Bridgewood PBS 440, Craftsman 22450, Delta 28-682, General 90-270, Grizzly GO506, Jet JWBS-18, Laguna LT18SE, Lobo BS-0181, Rikon 10-340, and Woodtek 118-199.
From Fine Woodworking #170
Many woodworkers have 14-in. bandsaws. For a wide variety of cuts, these machines are more than adequate. But if you cut a lot of thick stock, or if you resaw stock in the 9-in.-wide to 12-in.-wide range, an 18-in. saw is worth considering. Not only is it a size that offers extra capacity, but most 18-in. bandsaws also have more horsepower to cut faster.
I looked at 11 models of 18-in. bandsaws, ranging in price from $900 to almost $3,000. They include the Agazzani B-18, Bridgewood PBS 440, Craftsman 22450, Delta 28-682, General 90-270, Grizzly G0506, Jet JWBS-18, Laguna LT18SE, Lobo BS-0181, Rikon 10- 340, and Woodtek 118-199. (At the time of the review, the 18-in. bandsaw made by Mini-Max was unavailable and will be reviewed in a subsequent issue.)
Among the important characteristics of a bandsaw, the quality of the upper and lower blade-guide systems ranks high. Although they can differ, all guide systems have a common function: to support the blade during a cut.
With that in mind, I looked closely at each guide system. As I soon found out, they can be grouped in three different categories: solid-block guides (steel or ceramic), wheel (European) guides, and bearing guides.
Despite their differences, all of these guide systems are designed to support the blade at three points—the sides of the blade and the back of the blade. Side support helps keep the blade from twisting or drifting side to side during a cut. The back support helps prevent the blade from flexing on edge, which can cause blade drift (that annoying propensity of a bandsaw blade to wander off a straight line during cutting), an uneven cut, or both. It also prevents the blade from getting pushed off the wheels.
On the Craftsman, Laguna, and Lobo bandsaws, solid blocks support the sides of the blade. The blocks on the Craftsman and Lobo are steel; the Laguna has ceramic blocks. Both the Craftsman and the Lobo have an angled outside lower guide block, which shortens the distance between the upper and lower guides. That's a plus, because the blade is less likely to bow or twist. However, it was a chore to set the guides on the Craftsman and Lobo saws. I needed four different tools—a screwdriver, an open-end wrench, and two different-size Allen wrenches. Also, a hard-to-reach bolt made it difficult to adjust the guides front to back. I resorted to tilting the table to reach the bolt on the lower guide. Then, after carefully setting the upper guides, I learned that tightening the setscrews made the guides move slightly, so they no longer were positioned properly. It took several tries to figure out how to compensate for the problem.
For the full article, download the PDF below.
View PDF